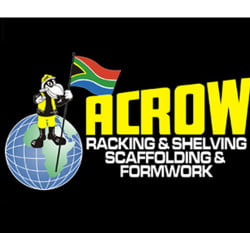 A name known throughout the world, is one of South Africa's largest storage and construction equipment manufacturers and have been the pioneers since 1946 of new ideas for reliable and efficient storage, materials handling and construction solutions.
All ACROW products are available in component form for self-assembly or are supplied as part of a professional design & installation service provided by ACROW. With the wide range of options and components available, all ACROW systems can be tailor-made to meet your precise needs.
All ACROW product batches are laboratory tested according to SABS ISO 9001 specifications and monitored for full traceability.
We achieve our goals by providing an excellent initial and after sales service. Our products are developed constantly and are customized to the ever changing needs of warehousing, distribution and construction markets both locally and internationally.
We rise above the rest by building on wealth of experience and supplying: "The Ultimate Solution" giving the end user.
Our products are split into Racking, Shelving, Scaffolding and Formwork and include the following:
Racking and Shelving
Industrial Shelving
AB Shelving
Pressfit Shelving
FLE 200 Shelving
Compacrow
Library Shelving
Commercial Shelving
Commercial Gondola
Metric / Wholesale Gondola
Racking
Pallet Racking
Light Duty Racking
Mezzanine Flooring
In-Rack Gondola
Canti-Rack
Drive-In Racking
Carton Flow
Pallet Flow
Mobile Racking
Extra Heavy Duty
Scaffolding and Formwork
Scaffolding
Acrow Stage System
Scaffold Tube & Fittings
Acrow Props
Selfix Towers
Formwork
Economy Form Panels
Decking Panels
Flex-form Panels
Floor Centres
Acrow Stage & Coffers
Column Boxes
Thru, Coil & Ferrule Ties
Road Forms
ADDRESS
Street: Unit 3, Brentford Road, Beacon Vale
City: Cape Town
Province: Western Cape
Postcode: 7499
Country: South Africa