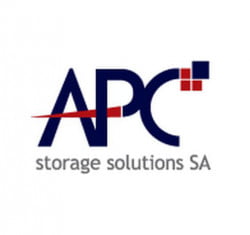 Storage Solutions SA
APC Storage Solutions SA has helped hundreds of companies across Africa optimise their warehouses and boost profitability by seamlessly integrating racking, shelving, automation and material handling equipment into one complete, highly effective storage solution.
Established over 20 years ago, APC Storage Solutions SA's unique approach enables space-saving warehouse designs that accommodate greater density in smaller spaces, enhanced warehouse flow, and long-lasting operational efficiency.Using decades of expertise gained by working on some of the continent's largest warehouses – APC Storage Solutions SA is considered a warehousing industry thought leader.
Our services include:
Warehouse design
Logistical planning
Warehouse facility planning
Warehouse inspection services
Warehouse installation services
Available as stand-alone products and or as fully-integrated storage solutions, products from APC Storage Solutions SA comply with both European and American safety and environments, and structural standards.
Our products include:
Racking systems (Available with a lifetime warranty)
Shelving systems (Available with a lifetime warranty)
Automated warehouse solutions
Self-supported warehouses
Accessories
Specialised products
Forklifts (material handling equipment)
Although all products from APC Storage Solutions SA are supported with a 5-year guarantee, the company has refined its manufacturing and installation processes to the extent that, with the right care, installations can easily last a lifetime. As warehouse industry pioneers, APC Storage Solutions SA is the first storage solutions company in South Africa to offer a lifetime warranty on its racking and shelving installations.
Heading multi-million Rand projects across South Africa, APC Storage Solutions SA's experienced warehouse technology specialists offer warehouse design and consultation services to small, medium, large and massive multinational storage facilities. A 5-year guarantee on all our installations sets this warehousing technology apart from our competition, which helps to ensure world-class service and cost-effective warehouse management.
ADDRESS
Street: Units B3 & B4, CTX Business Park, Freight Agents Road, Airport Industria
City: Cape Town
Province: Western Cape
Country: South Africa