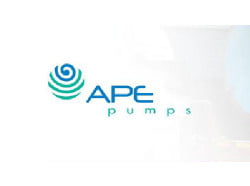 APE Pumps benefits from a long historical legacy of leadership and innovation in the pump engineering industry.
With over 50 years behind us, the vision of our founders and our history represent an incredible foundation for our Company, an underpinning which gives us confidence, strength and insight as we continue to be a leader in the growing premium pump engineering industry.
APE Pumps has an innovative, cutting edge product already being hailed as the best in its class. With an experienced, close-knit team of engineers, business people and sales specialists, we have the expertise to meet shifting market demands.
Through our highly flexible and ultra-modern production facilities, we have developed unique skills which are manifested in the design and manufacture of pumps specifically engineered to suit all conditions. We have the internationally recognised ISO 9000 accreditation which includes a complete calibration and various test facilities to cover all aspects of our manufacturing processes.
APE Pumps and spares are being supplied to many institutions and industries, including:
Municipalities
Mining
Pulp and Paper
Mineral Benefactions
Ports and Harbours
Water Authorities
Consulting Firms
Power Generation
Petrochemical Industry
In every aspect of our business, we are now able to respond even faster than ever before to changing client needs. This is true not only for our consulting expertise, orders processing and delivery levels, but also for after sales service including maintenance, repairs and spare parts supply. In addition, we have carved a niche for ourselves with customer orientated documentation, professional software and individually designed training courses.
By offering service levels that are unprecedented in the marketplace, we have made a total commitment to remaining a top company in all areas of our operation.
ADDRESS
Street: 26 Nagington Road, Wadeville
City: Germiston
Province: Gauteng
Postcode: 1422
Country: South Africa