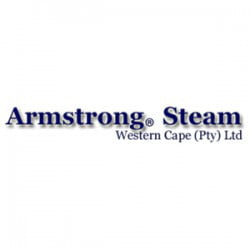 Steam distribution specialist Armstrong Steam Western Cape [Pty] Ltd was formed in 1997 to service industry in the Western Cape with an array of products such as steam traps, strainers, separators, safety relief valves, steam/water mixers, self regulating temperature control valves and rotary joints plus more. The reliability of the products and services provided has over the years established a loyal customer base across the full spectrum of Western Cape industry from oil refining to brewing and everything in between.
In early 2008 ASWC moved to new more accessible premises just off the N1 in North Gate and also expanded their range of control valves and their association with DoseTech giving them access to a comprehensive product range with which to continue to serve industry in this region.
Areas of competence include:
Low pressure steam distribution
Air supply and management systems
Energy surveys
Liquid and gas dosing and contaminant free gas compression
Speciality pump supply
Committed to providing uncompromising customer service which is the foundation of its success ASWC looks forward to being of service.
ADDRESS
Street: 25 Northgate Business Park, 
Gold Str,
 Brooklyn
City: Cape Town
Province: Western Cape
Postcode: 7405
Country: South Africa