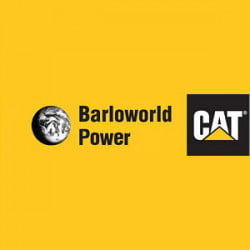 Forming part of the global and multi-disciplinary Barloworld Limited group, Barloworld Power, a division within Barloworld South Africa (Pty) Ltd, is strategically positioned to meet a broad range of power generator and commercial engine solutions in the southern African market. The commercial offering extends to include mining and construction equipment, marine propulsion, and locomotive engines.
In terms of its electrical generation supply focus as a business, Barloworld Power is responding to two of the most pressing issues facing the private and public sector, both locally and internationally, namely power security, and sustainable energy management.
Risk factors on the energy supply side include:
Escalating electricity tariff hikes from state-run utilities
Knock-on penalties for exceeding pre-set consumption targets
Unscheduled power outages that place intensified cost pressures on businesses
Unless effectively managed these factors can negatively affect work production and company profitability.

Now, and in the future, the driving force for all these solutions is a comprehensive series of Cat diesel, heavy fuel oil, and gas turbine engines (depending on the application), that are ready to meet the energy challenge. (As an aside, Barloworld Power has been the Cat dealer in southern African for over 80 years.)
Sectors that we provide energy solutions to include:
Mining
Manufacturing
Commercial
Telecommunications
Agriculture
Residential
Sports stadiums
Retail property developments
Municipal distribution and utilities
Key public establishments (such as airports and hospitals)
Customer options are highly flexible with rental, new or used generator packages available, and engine outputs starting at 4 kW and extending to 16 MW. Our Rental Division supplies short and long-term rentals with rent to own and lease options. These are supplied for plant rooms or as sound-proofed containerised units that meet and exceed environmental noise pollution codes.
DIESEL GENERATORS AND ENGINES FOR ALL YOUR POWER SUPPLY NEEDS
So whether the need is for "plug and play", standby power for critical installations such as IT networks, manufacturing lines and medical operations, or at the other end of the scale, complete standalone power station projects, Barloworld Power is equipped for the task. Our recent projects include the supply and commissioning of Cat 3516 generator units for Green Point Stadium and Peter Mokaba Stadium, two of the official venues for the FIFA 2010 Soccer World Cup.

On the turnkey side, Barloworld Power's in-house engineering team specialises in designing and building power stations with capabilities up to around 90MW. Allied engineering capabilities include the manufacture and supply of transformers and switchgear to ensure an absolute synch to the mains.
ANIXAS POWER STATION
On a larger scale, a classic example of sustainable energy management is Barloworld Power's current project for the Namibian electricity utility, NamPower. Being carried out by the Turnkey Division, the scope of works entails the construction of the 21,5MW Anixas power station at the port of Walvis Bay, valued at approximately R250m. 

Anixas is designed specifically to meet peak load demand in the Erongo region (a highly active mining centre) from Monday to Friday, ensuring that business operations experience no power interruptions. Powering the plant will be three Cat 16CM32 units.
Green Energy Solutions
Meanwhile, on the sustainability front, Barloworld Power is responding to market requests for green energy solutions with a suite of hybrid electro-mechanical diesel options, which can also be combined with solar power or there is a coal bed methane or natural gas alternative.

In addition to their commercial value, in the future these sustainable responses could dramatically change the lives of rural communities and urban dwellers by harnessing Barloworld Power's mechanical and electrical engineering skills to build Independent Power Producing plants that could supply affordable "electricity on tap".
ADDRESS
Street: Corner Peter Barlow and Kasselsvlei Road, Bellville
City: Cape Town
Province: Western Cape
Postcode: 7493
Country: South Africa