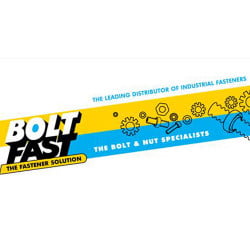 At Boltfast, our high quality nuts, bolts, fasteners, studs, washers and screws have successfully held the world in one piece since 1983.
We have also been certified as a Level 4 BBBEE contributor.
Our highly efficient, skilled team of people are motivated by service excellence and continuous improvement. Their extensive knowledge will guide you into making the best choice when it comes to the use of fasteners in any industry.
With over 24 000 products in stock:
We always "go the extra mile" for our customers.
We understand all your building and engineering needs.
We will source your desired product if we don't have it in stock.
We are the largest stockists of Stainless Steel Fasteners in South Africa.
We have become the leading distributor of industrial fasteners in the Western Cape.
We have an ISO 9001: 2008 Quality Certification, consistent improvement is our key to success.
We have Boltfast outlets in all major South African cities and deliver to all metropolitan areas in South Africa.
Besides fasteners, the other main products that Boltfast supplies are general hardware, hand tools, power tools, air tools, safety tools and much more from manufacturers and suppliers such as Hitachi, Gedore, Mobi Jack, Osram and many others.
Rest assured knowing your world is held together by Boltfast.
ADDRESS
Street: Unit 5, 21 Montague Drive Montague Gardens
City: Cape Town
Province: Western Cape
Postcode: 7441
Country: South Africa