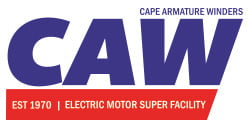 Cape Armature Winders was founded in 1970 and is the largest super facility in the Western Cape for the electrical and mechanical repair of AC/DC motors, alternators and generators.
CAW has consistently served the mining, marine, industrial, steel, petrochemical industries, and parastatals for four decades, with high focus on the quality of our work, employing highly skilled staff, and striving to offer the best facilities in the Western Cape.
Cape Armature Winders are a Level 2 BBBEE contributor.
As a leading provider of electrical and mechanical repair services to offshore platforms, natural gas plants, oil refineries, and petrochemical plants, CAW are one of the only facilities in the Western Cape to repair larger motors in-house. Dedicated to customers uptime, and knowledgeable, professional staff are available for emergency response – 24/7, 365 days a year.
CAW's super facility is the best of its kind in the Western Cape, South Africa:
Load test facility
Vibrator analysis testing facility
Submersible pump test facility
Largest baking ovens
40 ton lifting capacity
Burnout ovens
Generator power in the event of Eskom load shedding
Sandblasting bays
Engineering workshop
Manufacturing
Railway workshop
ADDRESS
Street: 64 Killarney Avenue
City: Cape Town
Province: Western Cape
Postcode: 7441
Country: South Africa