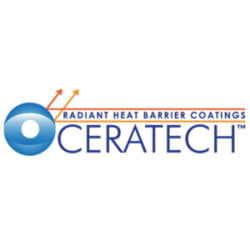 Radiant heat barrier coatings.
Franchises were set up in 16 areas and Ceratech took off as customers quickly realised the usefulness and efficiency of the product. Through vigorous advertising and marketing Ceratech quickly made its mark as the only liquid ceramic heat barrier coating. Well known clients (Spoornet, SAB, Distell, Eskom) all realised Ceratech's potential as a quick fix solution to Africa's tremendous heat problem.
Andre Ferreira purchased the company and now owns the intellectual property rights and trademark.
Why Use Ceratech?
Ceratech is a unique coating system designed to be easily applied to a variety of surfaces. The Ceratech system is a cost effective alternative to expensive, energy-hungry cooling systems and makes a significant difference to temperatures inside buildings, which adds up to savings in aircon and roof maintenance costs.
Ceratech is applied at 120 µm. When used as a roof coating there is an immediate reduction in the inside temperature compared to the temperature outside. When painted onto exterior walls, there is a further increase in the ability of the building to resist heat.
Healthy for you, healthy for the environment
This is a low cost, healthier alternative to air conditioning. Excessive use of aircon causes dry nasal passages and throat which makes you susceptible to colds and flu.
Go green by saving electricity with less use of aircon and refrigeration. Fridges don't need to work as hard to stay cool. Reduce your dependence on Eskom's power grid.
ADDRESS
Street: 31 Chestnut Drive, Hout Bay
City: Cape Town
Province: Western Cape
Country: South Africa