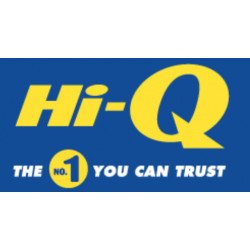 On September 2009 Hi-Q celebrated its 10th anniversary. The franchise network has grown at an exceptional rate, from inception to a household name, in only one decade.
When we started in 1999 there were only three Hi-Q stores in South Africa; today there are almost 180. From a franchising point of view, the growth of the Hi-Q network has been phenomenal.
When Hi-Q first opened for business, we decided to go about things a little differently. Because we work on their cars, our customers needed to truly trust us. It's really the only way to success. Our quality service makes customers return again and again.
We fit only South Africa's most trusted brands – quickly, affordably and safely. You see, at Hi-Q we never take our eyes off what's important: your safety, and that of your passengers. The fact that our network consists of independently owned franchises, means that each Hi-Q store will go beyond the call of duty to ensure a customer's satisfaction.
So when you're looking for real value, fast fitment and expert service, there's only one way to go: the Hi-Q way.
Did you know?
In the last Retail Awards survey by media group Avusa, Hi-Q achieved a first place position in the tyre retail segment – a fantastic 44% better than its closest competitor.
ADDRESS
Street: 14 Station Rd, Kuilsriver
City: Cape Town
Province: Western Cape
Postcode: 7579
Country: South Africa