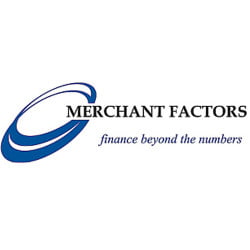 Thanks to Merchant Factors, there are simple steps you could take to free up cash. We have been providing company-specific working capital solutions for 25 years, via offices in Cape Town, Johannesburg and Durban.
These take the form of:
factoring or cash flow finance,
local and cross-border trade or stock finance, and
bridging finance
for amounts from R250 000 to R30 million.
While the major banks ordinarily assess your business based on your balance sheet, Merchant Factors bases its assessment on your assets – fixed assets, stock and debtors book.
This makes us an extremely attractive option when your balance sheet does not qualify for a bank loan.
Conventional banking facilities such as overdrafts have an authorised limit and as the business grows, the limit will have to be renegotiated, while factoring is linked to a business' sales ledger activity and will therefore grow with the business – up to 75% of turnover always available upfront and the balance of 25% when your customers settle.
Merchant Factors is not part of a banking group. Our independence, experience and flat organisation structure means that, unlike the banks, we are innovative, flexible and committed. This provides clients with much peace of mind.
Our clients find that our charges are more than offset by the value we add to their business and resultant increased profits.
We also have the fastest turnaround time in the business. Depending on the nature of the facility, we could have answers for you in as little as 48 hours and payout within two weeks.
Merchant Factors was established in 1988 by founder and CEO Johnny Philippou. The vision was to offer businesses sound alternatives to traditional bank loans and overdrafts. Today, Merchant Factors is one of the leaders in all its offerings in South Africa.
Our mission is to grow our SME market, to support and develop this vital segment of our economy.
Our values are
To instill a culture of innovative and entrepreneurial thinking
To establish integrity, trust and respect
To deliver flexibility, consistency and speed of execution
To maintain an energetic team committed to our clients' growing needs
Merchant Factors is a founder member of The Banking Association Debtor Finance Committee South Africa
ADDRESS
Street: 4th Floor, Merchant Place, 55 Loop Street
City: Cape Town
Province: Western Cape
Postcode: 8001
Country: South Africa