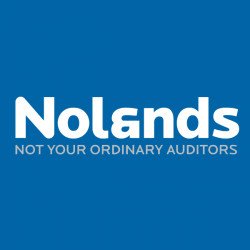 Not your ordinary auditors
Nolands is made up of four connected companies each with their own personality, location and history but that all share the same vision of a networked future.
We understand the value and importance of relationships, both with our colleagues and our clients. Through decades of experience, we all know and appreciate that it's this aspect that allows us to really add value and, in a meaningful way live out our company promise of being 'not your ordinary auditors.'
Cape Town
Cape based Nolands has positioned itself as the firm of choice for clients not in need of the 'Big 4' audit. Our level of skills, training and international resources allows us to compete with these firms on equal terms, offering a more affordable and closer connected alternative that doesn't compromise on professionalism.
We pay close attention to the challenges of the ever-changing auditing environment, and it's our close attention to these issues and our efforts to tackle them, that convince us that we're constantly getting closer to our mission of being 'the accounting, auditing and business consultants of first choice for innovative, success driven businesses and the motivated individuals who drive them.'
Durban
In 2006, MJ Richmond successfully negotiated his company's merger into the Nolands fold. In a period spanning nearly 70 years, the company has become increasingly entrenched as one of Natal's leading auditing and accounting firms. Merging with Nolands was the best way of protecting a professional legacy built on old-fashioned values and meticulous professionalism.
Johannesburg
The Johannesburg office dates back to 1934 and has grown with its clients to be the firm that it is today. Many of our current clients have relationships with us that began many years ago, some as far back as 1970.
Similar to Cape Town, the Johannesburg office is strategically placed to offer clients a fast moving alternative to the 'Big 4'. As part of the Nolands national network, the Johannesburg office is readily available to offer local expertise to clients based here, as well as to national clients who have operations based in Johannesburg.
Bloemfontein
Nolands in Bloemfontein partners local knowledge with a vast depth and breadth of national and international experience. It combines 'young and hungry' with a network of established skills and expertise.
The firm specializes in accounting, auditing, tax and financial and management advisory services. With clients ranging from private companies to government institutions, the vision is to energetically build on the BEE beliefs and plans that are already in place, and to compete successfully against South Africa's leading auditing firms.
Nolands' international association through GGI comprises of some 285 independent accounting, consulting and legal firms represented throughout the world's major financial centers. Naturally, this gives us a highly skilled, reputable presence throughout the world with which to service local clients in their international business.
ADDRESS
Street: Noland House, River Park, River Lane, Mowbray
City: Cape Town
Province: Western Cape
Postcode: 7700
Country: South Africa