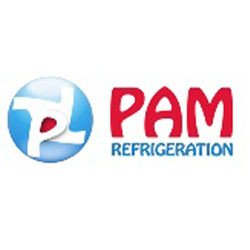 PAM Refrigeration is active in the Marine and Industrial Refrigeration field. We design, manufacture and install industrial refrigeration systems.
Our strength lies in the knowledge and extensive experience we have in the marine, fish and food processing industry and in the quality of our engineering.
PAM manufacture Flow-Ice systems, and export  system all over the world. Our experience  in Flow-Ice started in the middle 90's and today we manufacture high quality industrial Flow-Ice system outperforming any competitor in terms of energy efficiency with best reliability, on smallest foot print possible.
Flow-Ice is a very versatile cooling medium, and the application of Flow-Ice stretches from food processing to energy management. There are also many specialized application for Flow-Ice in the environment, water and effluent management.
PAM is a very creative company and has the ability to focus on specialized applications. We further use our wide experience and constantly develop and improve our system designs to seek the best efficiency, reliability and simplicity of system designs. These main pillars of our design philosophy sets us apart from any other company competing with us.
Based in Cape Town, South Africa, PAM has a 1000m2 factory, with offices, and a compliment of 15 to 20 staff members.
ADDRESS
Street: 8 Williams Way, Racing Park, Milnerton
City: Cape Town
Province: Western Cape
Postcode: 7554
Country: South Africa