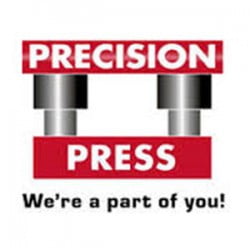 Precision Press is one of the few medium-sized metal pressing operations in South Africa focused entirely on the automotive sector. And this brings real benefits to our customers.
We understand the challenges faced by the automotive industry and are experienced in producing high-quality components, at competitive prices, delivered on time, every time.
In addition to constantly upgrading our manufacturing abilities and equipment to reflect global technological advancements – we are TS 16949 accredited – we have our own engineering room that is capable of maintaining state-of-the-art tools.
We're here for the long term and believe it's about partnerships. We have fostered strong relationships with our customers over the years and shown our willingness to invest in technology and equipment to meet their growing needs.
So if you're looking for a precision-engineered part – from an exhaust bracket to a safety-critical suspension component – then Precision Press should be your first choice.
ADDRESS
Street: Corner Talana Road and Sacks Circle, Bellville South
City: Cape Town
Province: Western Cape
Postcode: 7532
Country: South Africa