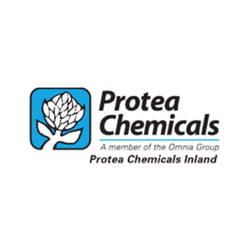 The Omnia spirit underpins its service ethic, brings innovation to the fore, creates value for its customers and ensures integrity in all that it does.
The Omnia Group comprises a balanced and diversified range of complementary chemical services businesses with a broad geographic spread. The Group extracts operational synergies and efficiencies across its businesses. It has been in business since 1953 and is listed in the Chemicals sector of the JSE Limited.
The Inland, KZN and Cape divisions of Protea Chemicals, together with their extensive branch networks, are located in all of the major business centers across South Africa – in close proximity to manufacturing industry customers throughout the country.
An extensive range of products, assured quality, timeous delivery, and experienced technical support, all contribute to making Protea Chemicals a leader in the chemical distribution industry. State-of-the-art facilities, staffed by highly qualified professional personnel, enable the division to assist customers in evaluating and addressing the many complex technical and logistical challenges that occur in today's business environment.
Protea Chemicals Inland, KZN, and Cape offer a broad range of custom services for dry and liquid product handling. From simple acid, alkaline and solvent blends to specific temperature sensitive or high viscosity products, Protea Chemicals' customized process facilities ensure accurate blending of both dry and liquid products to suit our customer requirements.
Further, modern facilities and extensive rail car and tank truck handling capabilities allow for greater efficiency, assured quality control and reduced costs in the movement of inbound and outbound deliveries of raw materials and finished products throughout the country.
ADDRESS
Street: 54 Killarney Ave, Milnerton
City: Cape Town
Province: Western Cape
Postcode: 7441
Country: South Africa