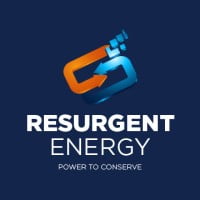 "At Resurgent Energy, we're excited to work jointly with our customers and partners to shape their sustainability journey ahead. "
Resurgent Energy is the trusted name in Solar Logistics in South Africa.  The Company was established in 2017, when Shoprite Checkers (Pty) Ltd embarked on a search for a sustainable solution to their refrigerated and non-refrigerated logistics trailers which required an independent power source (from the diesel-powered truck). In response, Resurgent Energy developed customized solar and battery storage systems for their FMCG transport trailers.  These systems power all trailer functions previously powered by diesel – such as Tail lift, Nitrogen Refrigeration, Security and Tracking – saving our client millions of Rands in diesel costs each year.  To date, over 600 trailers have been fitted with our Solar Logistics Systems, across Southern Africa.
These Solar Logistics systems are designed to power a combination of;
Trailer tail lifts to drastically reduce vehicle Diesel consumption during loading and off-loading, leading to significant cost saving;
a Liquid Nitrogen (CryoFridge) refrigeration system, most diesel fridges are easily converted to the CryoFridge systems;
a Security system comprising of multiple cameras; and
Tracking and remote locking, as well as interfacing with fleet tracking systems for solar data.
In order to provide the customer with a comprehensive solution, the systems are inspected and maintained monthly by a team of trained Resurgent Technicians ensuring optimal asset productivity.
Resurgent Energy are also pioneering Electric Pallet Jacks and Electric Forklift technologies for the logistics industry. All systems and Lithium Battery units are locally manufactured in accordance with customer specifications.
Our vision of the future at Resurgent Energy is to expand our reach further into the logistics market, thus enabling our customers the benefit of mobile renewable energy. As well as to expand further into the renewables and energy storage market, by providing a variety of medium to large scale energy stability solutions.
Innovation and technology are key differentiators in the highly competitive Renewable Energy market. With Resurgent Energy's diverse expertise, strong commitment to quality standards and innovation-driven culture, they will continue to design game-changing renewable energy stratagems to the benefit of their clients.
ADDRESS
Street: 55 Evelyn Street, Newlands, Randburg.
City: Johannesburg
Province: Gauteng
Postcode: 2092
Country: South Africa