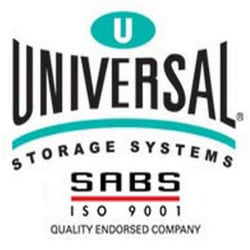 More than ever before, the demand to optimise space is pushing the boundaries of storage planning and technology.
Universal Storage Systems has recognised these increased expectations and have been constantly adjusting our operations and solutions over the years to accommodate our client's ongoing needs.
Founded in 1994, our acceptance in both local and international markets bears testimony to the dedication, commitment and skills of Universal's engineering, production and operations teams.
From our head office in Strydom Park, Johannesburg, we service both the nation and international markets. With branches in Johannesburg, Cape Town, Durban and Port Elizabeth the South African network is enhanced with a team of dedicated agents and distributors.
We, at Universal Storage Systems, take pride in the fact that we have been of service to major brand leaders in the country's industry and commerce.
To use any supplier requires an understanding of that supplier – how they operate and what they are capable of doing for you. With this in mind let us help you make the correct decisions when it comes to making use of Universal Storage Systems.
First it is necessary to appreciate that the company has been serving many of the major organisations and brands for many many years. It is with pride that Universal is able to help organisations both locally and internationally from their Johannesburg based Head office and factory.
Architects, engineers and storage users all agree that today's environment is pushing the utilisation of space to a premium. Optimised utility of cubic areas is the prize being sought after by designers world-wide.
Since their founding in 1994, the executives of the company have recognised these facts and, through the use of its own research, technology and highly trained engineers – plus access (through world-wide relationships) to international expertise, have directed their energies to achieving these goals. With commitment and dedication their professional team of developers and production engineers have worked hard and meeting the needs of their discerning clients.
There method of operation is based on the simple but well proven techniques, integrating all aspects product development and management though dedicated highly proficient staff:
Feasibility Studies
Concept Design
Product Development and Engineering
Validation Testing
Quality Assured Automated Production
Project Management Installation
After – Sales Service
Using modern computer aided design facilities, including 3D projections, and coupled with Universal's considerable experience in the conceptualization, projects are put together to meet the specific needs of the client's storage needs.
The production strategies include the necessity to use the highest economically practical materials required to meet the stands of safety and productivity.
Modern computer aided design facilities, coupled with Universal's considerable experience in the conceptualization of effective storage solutions; the company has earned a reputation of being able to find solutions to most storage challenges.
The positive reputation is a result of a "right first time" attitude. Combined with the objective: "to design and manufacture superior products which are internationally competitive". They have developed a total quality control philosophy as a standard and hence their ISO 9001 and SEMA awards
ADDRESS
Street: No.1 Fitz Maurice Ave, Epping 2
City: Cape Town
Province: Western Cape
Postcode: 7475
Country: South Africa