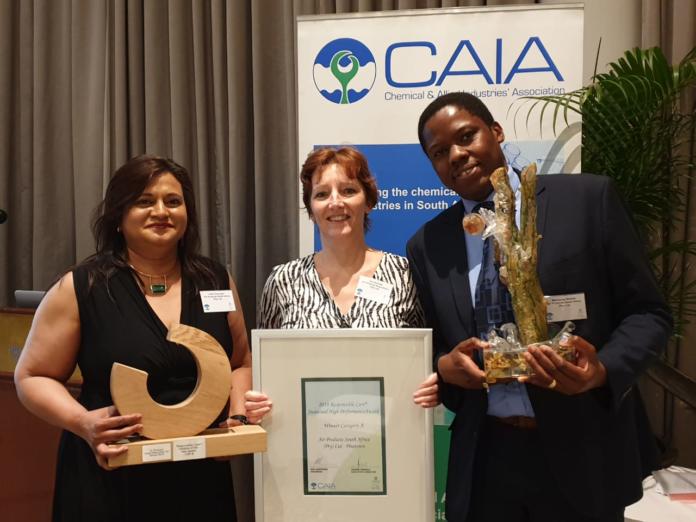 Air Products celebrated its 50th birthday this year and ended it on a high note by receiving two awards at the Chemical & Allied Industries' Association (CAIA) Responsible Care Awards Ceremony which was held in Johannesburg recently.
One of the awards was focused on safety and the other was a great achievement for the company, as it is the first industry award received for their #WitnessHappiness project.
The annual prestigious CAIA Responsible Care Awards is a highlight on the industry calendar and an opportunity for members to showcase their projects, initiatives and successes.
Despite fierce competition the safety award, the 2019 Responsible Care Sustained High Performance Award, was awarded to the Pinetown Facility in Category A. Air Products'
General Manager – Technical, Maropeng Bahula, commented on the award: "We are extremely honoured to receive this award as safety is a crucial element in processes throughout our entire organization. It is good to see that our efforts to make safety a way of life for employees are noticed and embraced by all. At Air Products we embrace the ethos that "nothing is more important than safety".
The second award was the 2019 Responsible Care Initiative of the Year Award Winner for Corporate Social Responsibility Projects in Category B. According to Arthi Govender, Market Research and Strategy Manager at Air Products who conceptualised the project, the award coincided with the end of the of the first three year cycle of the #WitnessHappiness project.
Govender explains that the project started three years ago and the employees at each of the facilities nationally had to select an early childhood development (ECD) centre in their community to support for a period of three years.
She further explains: "Our Corporate Social Responsibility (CSR) Committee agreed to the project approximately three years ago and we committed to different centres nationally. During this three-year cycle, employees could visit the centres and spend time with the children on specific days. The children also received gifts and other learning aides, and infrastructure improvements were done at a number of them to ensure a safe and hygienic environment for the children."
Govender further mentions that this is the first award received for the #WitnessHappiness project. The second three-year cycle has already started.
"I cannot wait to see what joy, happiness and positive change the next three year cycle will make at the newly selected centres."