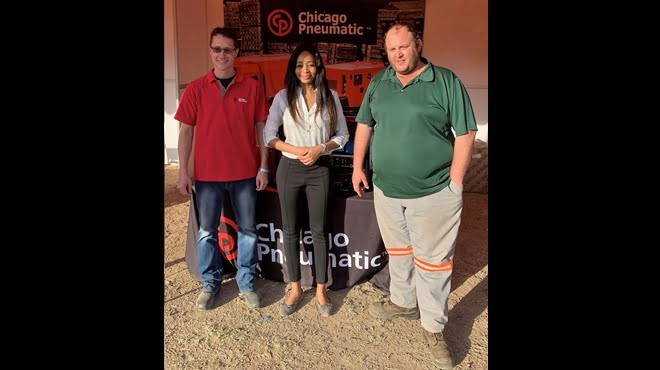 Following hot on the heels of the highly successful Kathu MTE, Chicago Pneumatic demonstrated its world renowned generator portfolio at the Mogalakwena Mining & Technical Exhibition (MTE) on 25 July 2019 where the company once again held a lucky draw to give away a state-of-the-art CPPG5.5 Kva portable petrol generator.
"For more than six months Chicago Pneumatic has been traversing South Africa and neighbouring countries together with the MTEs,  showcasing our vast generator suite and the adventure is nowhere close to over with seven more expos on our journey," highlights Eben van der Vyver, Chicago Pneumatic Business Development Manager – Southern Africa. "This initiative has enabled us to gain invaluable knowledge on what potential customers look for in a generator and we are eager to continue learning more during the upcoming MTEs."
The Belgian manufactured CPPG generator packs the power and is synonymous with premium quality and high efficiencies. The popular 5.5 Kva unit forms part of the highly sought after Chicago Pneumatic's versatile CPPG generator range. "Customers are unique and so are their application needs and through our CPPG generators, we are able to cater to a wide range of customer requirements," says Van der Vyver.
Customers are spoilt for choice with a range of 2.3Kva to 14Kva models available in petrol and diesel engines, silenced as well as in open frame variants. These advanced generators also exude robustness with their solid main frame which includes additional reinforcement around sensitive components, covered and recessed sockets as well as a protected electrical panel. Equipped with AVR (Automatic Voltage Regulation), the units have been designed and developed to deliver stable electrical output as well as safe, user-friendly operation over an extended service life.
Built to handle tough conditions, these rugged generators are ideally suited for private and professional customers in the construction, demolition and rental sectors. Compact to the core, the CPPG generators feature a simple, ergononomic handle design which enables the units to be smoothly and easily lifted and transported. Further adding to the generators noteworthy features are large, reinforced fuel tanks.
"Chicago Pneumatic adheres to stringent quality and performance standards and therefore we ensure that all our products undergo thorough testing prior to release," explains Van der Vyver. CPPG generators are tested for 1000 hours at (full) 100% load non-stop prior to the release. Customers can rest assured that the CPPG generator they are utilising has been certified for use under the highest standards.
On the day of the Mogalakwena MTE, Van der Vyver was joined by Vannesa Masenya from Super Air, a Chicago Pneumatic distributor, to hand over the coveted CPPG5.5 Kva generator to lucky winner, Dolf Steenkamp from Anglo America. With the Chicago Pneumatic stand attracting a lot of interest, the day ended on high spirits with both Chicago Pneumatic and Super Air having received numerous enquiries.
"The MTEs present us with the opportunity to engage face-to-face with exiting and potential customers and to receive product feedback directly from the source, enabling us to fine-tune our portfolio. We excitedly await the next MTE to learn more about our customers and their need for power generation," concludes Van der Vyver.