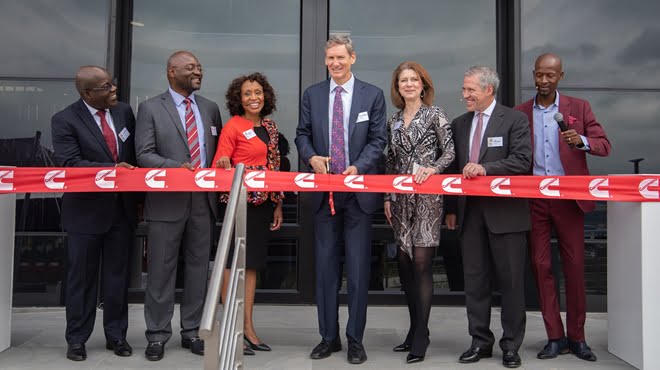 Cummins, a global power leader and corporation of complementary business units that design, manufacture, distribute and service a broad portfolio of power solutions, recently launched its state-of-the-art premises in the highly acclaimed business area, Waterfall Logistics Precinct in Waterfall City. The Power Hub strategically consolidates and solidifies various business premises in support of the company's position as Africa's preferred power solutions provider.
The new facility, a R350 million investment, is geared to ensure ease of business dealings for customers and support of the Cummins vision of exceeding customer expectations whilst improving operational efficiencies in a collaborative manner. The Power Hub is a 15,355m2 facility housing the Cummins Southern Africa Regional Headquarters, the Master Rebuild Centre (MRC), Africa Learning Centre and Gauteng Operations. Commenting at the unveiling of the premises, the Managing Director of Southern Africa, Ms Racheal Njoroge said: "The launch heralds the completion of a three-year project that culminates in the creation of a world class sales and service facility. Employees and customers alike will appreciate the value these premises will bring to their Cummins experience. As always, we are driven by a customer-centric outlook to provide quality performance and service el-extraordinaire."
The consolidation of the various businesses at the Power Hub provides a technologically advanced world class suite of products and capabilities all available under one roof. The central hub, providing power solutions for customers across the Southern Africa region, brings together a host of Cummins technically advanced expertise from mining, power systems, automotive and technical training.
The headquarters for Cummins Southern Africa and Cummins South Africa is in Waterfall City, Johannesburg, South Africa; with branches in Cape Town, Durban, Kathu and Middleburg in the country; as well as branches in Angola, Botswana, Mozambique, Zambia and Zimbabwe. The company also enjoys a wide range of dealer networks in support of its widespread Southern Africa footprint. Backed up by a powerful global service network, Cummins stands behind the quality of its products by offering factory-backed Extended Warranty Programs.