South Africa's debt-laden power utility raced to stabilize the grid by resorting to the most intense supply cuts in four years while Moody's Investors Service warned a plan to fix it fell short.
Eskom Holdings SOC Ltd. implemented so-called stage 4 rotational power cuts from 1 p.m. That involves taking 4,000 megawatts of demand out of the system to prevent its complete collapse. The reductions come as Moody's Investors Service said the producer is a significant risk to South Africa's finances and President Cyril Ramaphosa's strategy to split the company into three does little to address its problems.
The rand was the worst major and emerging-market currency against the dollar Monday, while yields on benchmark government rand bonds rose the most since October.
"No modern economy can operate without power," said Mike Schussler, an economist at economists.co.za. "If we had stage 4 load shedding every day, it would take away 10 percent of the power of the South African economy." Eskom has about 40,000 megawatts of installed generating capacity.
Credit-Negative
Providing Eskom, which has 419 billion rand ($30 billion) of debt, financial support before taking measures to generate savings at the utility would be credit-negative for the country, Moody's said. The remedies would entail "unpopular decisions on electricity tariffs, it said.
Power cuts may cost the country as much as 5 billion rand a day, according to the Organisation Undoing Tax Abuse, a civil-society group.
Regular supply interruptions are creating uncertainty that endangers businesses that are highly dependent on the utility, said Shaun Nel, a spokesman for the Energy Intensive Users Group of South Africa, whose members consume more than 40 percent of the nation's power and include Anglo American Plc.
"We're going to see companies close in the smelting industry," Nel said. Between already-high tariffs and the specter of more supply cuts, the victims will be "small foundries and smelters that shut down and never come back," he said.
The country is Africa's biggest steel producer, and Eskom first throttles supply to industrial customers before cutting retail consumers.
Tariff Request
Eskom has asked for permission to raise power tariffs by 15 percent in each of the next three fiscal years, more than triple the average inflation rate over the past 12 months. If allowed, this would ease the government's contingent-liability risk but stoke inflation and weigh on economic growth, said Moody's. Small price increases would "maintain pressure on the company's very weak financial profile," it said.
A breakup into generation, distribution and transmission businesses will enable each unit to better manage costs and make it easier to raise funding, the government said. Credit-rating companies see Eskom as a key risk to Africa's most-industrialized economy, with blackouts and huge debt a drag on growth prospects.
Moody's is the only one of the three major ratings companies that has South African debt at investment grade. It raised the outlook on the assessment to stable from negative in March and will publish its next assessment on March 29, a month after the release of the 2019 budget.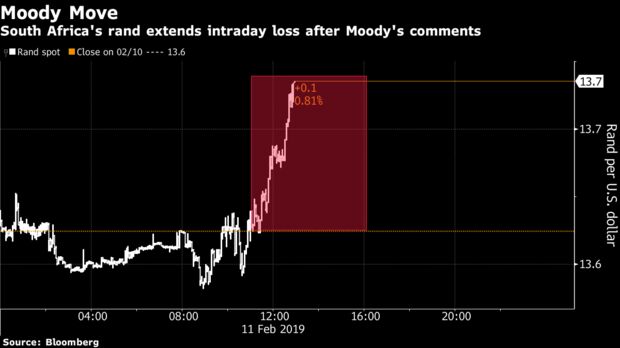 The rand erased earlier gains, weakening 0.9 percent to 13.7443 per dollar by 2:06 p.m. in Johannesburg. Yields on rand-denominated government bonds due December 2026 climbed 11 basis points, the most since Oct. 24, to 8.76 percent.
Moody's comments are a reminder that major structural issues such as power insufficiency are serious constraints on the real economy and put pressure on public finances, said Piotr Matys, London-based emerging markets currency strategist at Rabobank.
"Those issues pose a major challenge for President Ramaphosa's administration," he said.