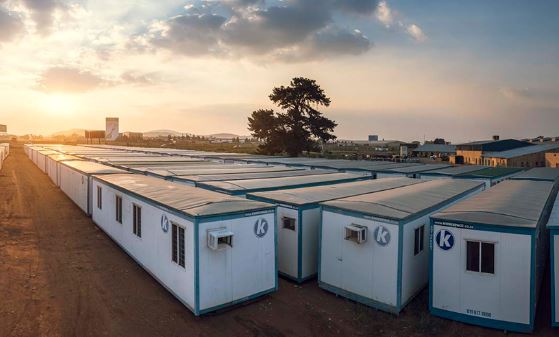 KWIKSPACE has been in the on-site accommodation business for almost 50 years and claims industry leadership in providing 'Kwik', high quality accommodation solutions. Prefabricated units are also manufactured for use as offices, mobile homes, dormitories, classrooms, clinics, kitchens, storage rooms/lockers, ablution facilities or temporary structures for shows and events.
Kwikspace buildings have a minimum rated lifespan of 20 years. Not only does Kwikspace use a thicker steel grade than the industry norm; its units are also insulated with polyurethane foam instead of the standard expanded polystyrene (EPS). This provides superior strength and thermal properties. Kwikspace panels are also covered with up to 0.47mm Aluzinc painted steel, providing improved corrosion resistance as well as increased durability and longevity.
Quality is tightly managed through Kwikspace's ISO9001-certified processes. High standards are further complemented by registration with the National Home Builders Registration Council (NHBRC), Agrément South Africa and the Construction Industry Development Board (CIDB).
"Kwikspace is fully committed to deliver products and services that consistently satisfy and exceed our customer's expectations," says Ashley Adams, the Cape Town Regional Branch Manager.
Kwikspace customers have the option to either purchase or rent. With the largest modular buildings rental fleet in Africa, Kwikspace ensures delivery in 5 – 14 working days. Kwikspace offers two purchasing options: either fully-erected modular buildings, ready for delivery and instant use, or buildings in kit form. This option allows the customer to rapidly establish a completely customised site to exact requirements, using proven prefab panel technologies – a particularly useful feature on sites with restricted access.
Kwikspace is a Level 4 BB-BEE Certified company, with manufacturing facilities in Cape Town and Johannesburg. These facilities have a combined capacity of 3 000m2 per month. Through its extensive branch network, Kwikspace is able to provide cost-effective solutions throughout South Africa and beyond its borders.
Park homes and custom prefab buildings have been supplied for schools, clinics, mining, construction and humanitarian requirements. Kwikspace have also taken great pride in providing screening, vaccination and isolation rooms in support of the COVID-19 pandemic.