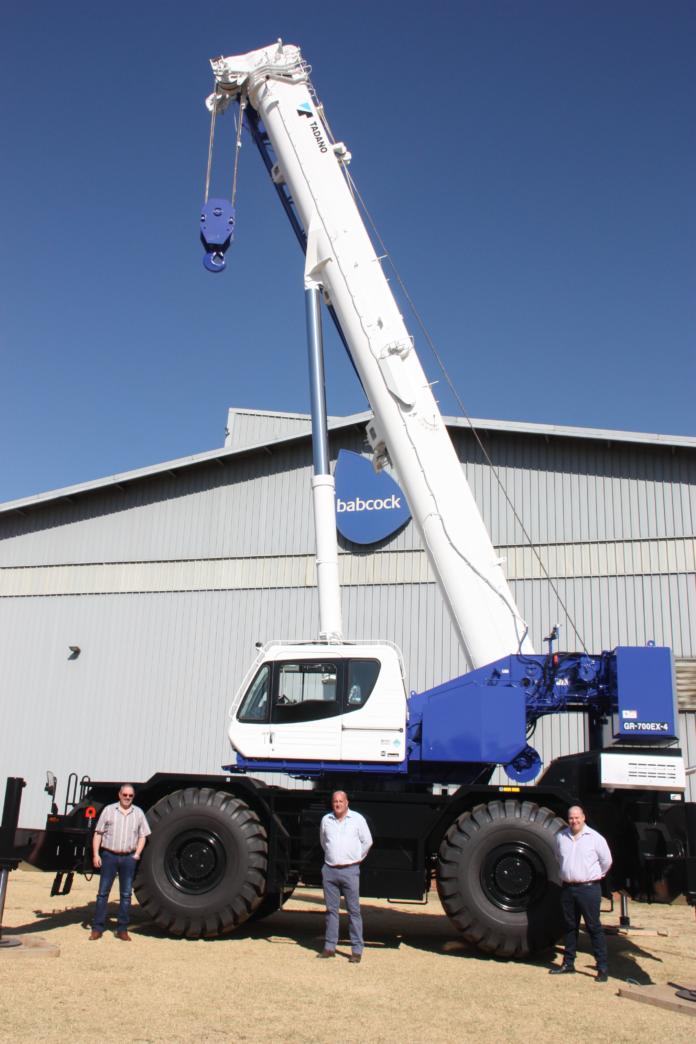 IN September, Babcock delivered the first TADANO GR-700EX-4 Rough Terrain Crane to a long-standing mining customer. The 70-ton hydraulic rough terrain crane is the first one to arrive in South Africa, and one of the first to be sold world-wide.
The fourth-generation TADANO GR-700EX is well suited for plant maintenance in mining and construction applications where maneuverability and access to narrow spaces is essential.
Sales representative for TADANO at Babcock, Claude Delport, says that the TADANO brand is well established in South Africa owing to the quality and longevity of the products, availability of spare parts, and excellent resale value.
Of the GR-700EX-4 Delport says repairs are easy to carry out and servicing is economical, making the TADANO range of rough terrain cranes a cost-effective long-term solution for any customer.
Some of the new features that set it apart from its predecessors include:
An upgraded cab with digital displays and touch screens
Automatic speed reduction and slow stop function on boom elevation and slewing
A 20⁰ tilt cab for improved operator comfort and visibility
A TADANO Automatic Moment Limiter (AML-E2) system that monitors outrigger extended lengths and automatically programmes the corresponding rated lifting capacities table.
"The Tadano AML-E2 system with the outrigger monitoring feature and smart chart system is a particularly useful tool as it automatically calculates the machine's lifting capacity and stability even if the four outriggers are extended at different lengths. This ensures that the lifting capacity is increased in safer areas and adjusted accordingly in more confined spaces," Delport explained.
Delport says that the range TADANO cranes are popular across the continent, with some customers operating the same machines for over 35 years. "Our customers are extremely happy with the quality and longevity, as well as the long-term investment opportunities the machines afford."
The new rough terrain cranes are available in models with lifting capabilities from 13 to 145 tons, while TADANO'S all-terrain cranes have lifting capabilities ranging from 40 to 400 tons.
Additionally, there is a range of telescopic crawler cranes combining innovative technology with measurable results for heavy duty requirements on tough work sites; and a selection of TADANO truck-mounted cranes combining outstanding mobility with flexibility and ease-of-use, ideal for small, medium and large construction or industrial project needs.
Babcock has been the exclusive distributor of TADANO products in South Africa since 2009 and provides support and sales to customers across southern Africa.