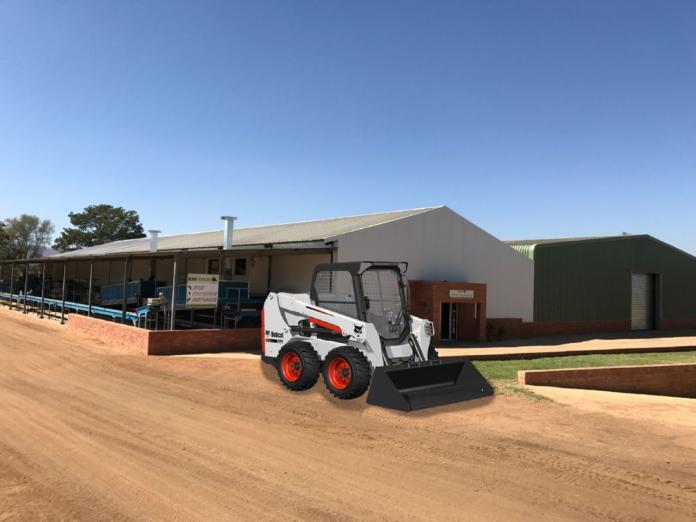 A small agricultural enterprise in the Loskop Dam Valley in the Sekhukhune District of Limpopo has just acquired its second S550 skidsteer loader from Bobcat Equipment South Africa.
Krokodilsdrift Boerdery, trading as KDB Farm, has been a family-run operation since 1963, mainly exporting lemons and grapes. It uses the Bobcat S550s with a pallet fork attachment to convey full fruit bins out of the orchard, from where these are transported to the packhouse, owner Chris Moolman explains.
"I am extremely satisfied with the service from Bobcat, both during the sales process and the aftermarket support provided. We have not yet had to rely on this support because the machines are so durable and have performed amazingly to date," Moolman comments.
Bobcat and SANY sales representative Jean Botha elaborates that KDB Farm also uses its Bobcat S550s for road-repair work, in addition to bin collection and crate packing using the handy pallet fork attachment. The second skidsteer loader was delivered at the end of April.
"This is an ideal all-round machine for an operation like KDB Farm, as it is able to switch-out the standard bucket to the pallet fork attachment in a mere 30 seconds," Botha adds. Another key benefit for such clients is the low total cost of ownership and reduced maintenance.
Moolman is so impressed with his Bobcat S550s that he is likely to continue his relationship with Bobcat Equipment South Africa by acquiring a versatile B730 in the near future. This tractor loader backhoe is ideal for a range of applications, from digging to trenching, breaking, or even materials-handling.