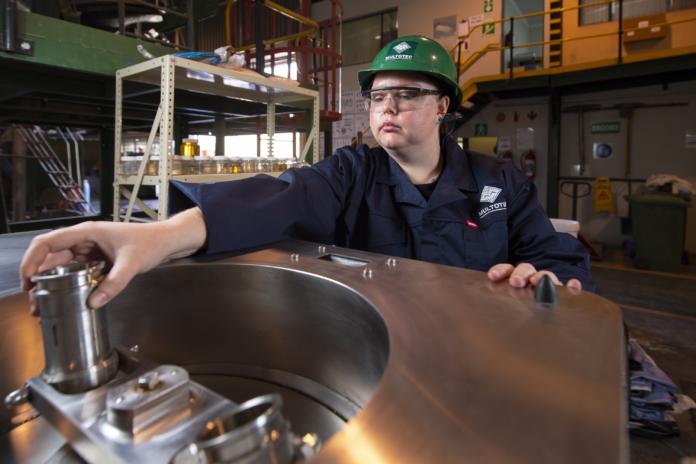 WELL known in the mining sector for dewatering and other mineral processing solutions, Multotec Process Equipment has also been growing its footprint in food and chemical applications.
A recent installation by the South Africa-based original equipment manufacturer (OEM) successfully assisted a salt producer in Namibia in reducing moisture content in its product. According to Multotec Process Equipment senior process engineer Khathutshelo Mutshinyalo, a fit-for-purpose vibrating centrifuge was the answer in this application.
"The customer had a specific requirement to achieve a low moisture level in their coarse salt application," Mutshinyalo says. "However, we also needed to prove upfront that our solution would deliver the correct result."
With its experience and its in-house testing facilities, Multotec was able to define a test work method to meet the customer's precise needs. It was also able to draw on the capabilities of its state-of-the-art Centrilab technology – developed by sister-company Siebtechnik Tema. The Centrilab tests the separation of suspensions in the centrifugal field, by simulating the particular centrifuge operating conditions.
"This allowed us to specify the optimal machine for the customer, and prove the results before the order was placed," he says. "The vibrating centrifuge we specified features a maximised area inside the housing, to optimise the dewatering process."
The result was that Multotec's centrifuge achieved a moisture content 10% better than the customer's expectation. Achieving better than the desired moisture content ensures that there is minimal to no formation of lumps in the product, which saves the customer potential penalties.
"By testing to ensure the right solution, and deploying a product specialist and technician on site, we could commission the centrifuge outside South Africa within a week," he says. He notes that Multotec's footprint with this technology includes companies in South Africa, Botswana, and Kenya using it for similar applications.