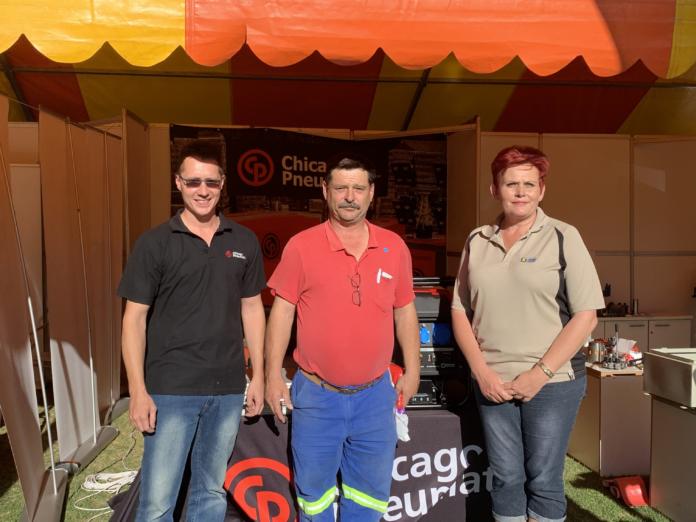 CHICAGO Pneumatic has concluded a series of Mining & Technical Exhibitions (MTE) throught South Africa and neighbouring states which saw the high performance tools and equipment specialist sponsoring a total of 18 CPPG 5,5 kVA generators given away during lucky draws. Chicago Pneumatic concluded its MTE journey at the Lichtenburg show the North West Province in November 2019.
The MTEs presented Chicago Pneumatic with the opportunity to showcase the capabilities of its state-of-the-art portable petrol-driven generator. Ideally suited for both private and professional customers in the construction, demolition and rental sectors, the Belgian-manufactured CPPG generator range is available in 2,3 kVA to 14 kVA petrol and diesel units, with silenced as well as in open frame variant options.
A solid main frame that features additional reinforcement around sensitive components provdies robut protection for covered and recessed sockets as well as the electrical panel. Featuring Automatic Voltage Regulation (AVR), the machines are built to deliver stable electrical output and safe, seamless operation over an extended life cycle. Easy manoeuvrability is ensured with the generator's simple, ergonomic handle design while a large, reinforced fuel tank delivers extended working hours.
CPPG generators undergo durability testing of an uniterupted 1 000 hours at (full) 100% load prior to despatch.
Kobus Janse van Vuuren from Sephaku Cement was the winner of the final 2019 lucky draw at MTE Lichtenburg and received his generator from Eben van der Vyver, Chicago Pneumatic Business Development Manager – Southern Africa and Christa van Wyngaardt who represented Chicago Pneumatic dealer, Turner Morris.
"Over the past two years the MTEs have been an invaluable platform for us to expand brand awareness as well as gain in-depth insight into customers' diverse requirements across the regions," said Van der Vyver.