South Africa's Road Transport Hauliers Industry is worth billions of Rand but is plagued by daily fatalities, accidents and injuries. The need for this industry to tighten its Occupational Health and Safety (OHS) compliance measures has never been more relevant. Its daily casualty rate affects 90 employees, making OHS a vital component in safeguarding the wellbeing of its workforce.
MAKROSAFE, a leading OHS consultancy, says diligent identification of hazards can eliminate catastrophic accidents but warns that emergencies can and do arise. For this reason, it has introduced a high-tech Android-friendly app powered by OHS Online called the SafetyWallet Rewards Programme. This is an incentive scheme that rewards companies with substantial returns on their investment (ROI) for reaching and maintaining OHS Act compliance stipulations.
SafetyWallet Rewards Programme
This incentive to improve health and safety within the road transport industry can save companies thousands of Rand in ROIs. Using the app enables road hauliers to make radical inroads into improving their health and safety standards. How it works is that the SafetyWallet rewards clients for maintaining, implementing and improving various strategies to curtail unacceptable and dangerous health and safety workplace issues.
Four Different SafetyWallet Divisions
Companies are divided into four distinct categories when applying for the SafetyWallet Programme. These are:
Friend Circle 1- 50
Family Circle 51- 100
Champion Circle 101- 300
Pinnacle Circle 301+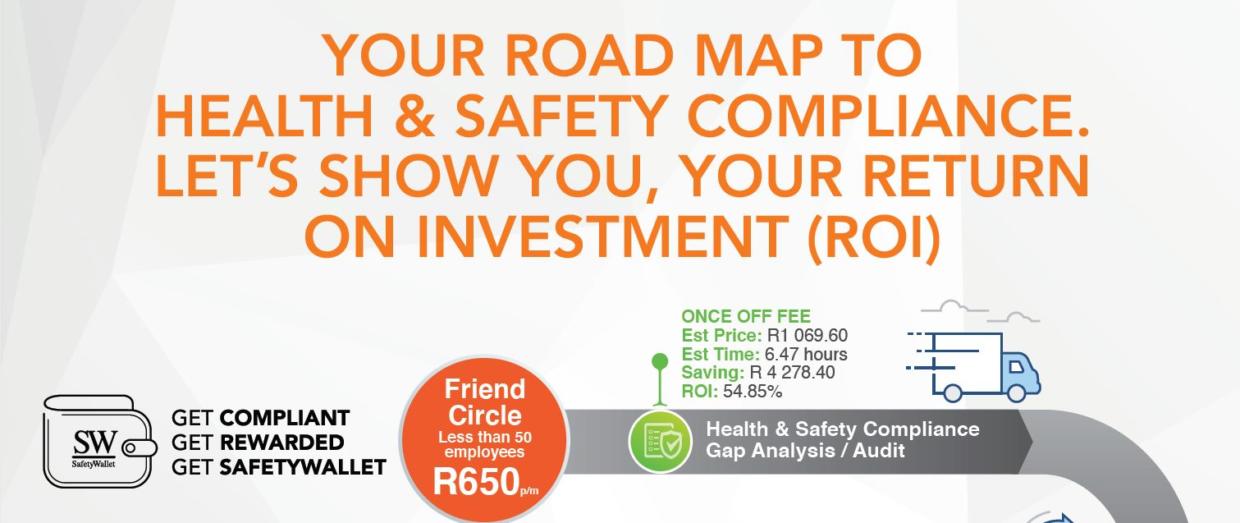 For this exercise, we examine the savings and ROIs applicable to the Family Circle for companies employing between 51 and 100 workers.
Health and Safety Compliance Audit / Gap Analysis
Saving: R 8 556.80
ROI: 54.85%
Health and Safety Risk Assessment
Saving: R 6 195.00
ROI: 94.56%
Health and Safety (on-site) Implementation
Saving: R 16 643.25
ROI: 249.76%
Maintaining Health and Safety Programme
Annual Saving: R87,890.25
ROI: 563.40%
Avoiding Catastrophes
Companies operating in the Road Hauliers Transport Industry must take precautions to curtail current accident-rates. With the help of professionals in the OHS field, this goal can be achieved by developing a sound in-house Health and Safety ethos. MAKROSAFE and SafetyWallet helps industry players to prevent injuries, identify hazards, avoid accidents and safeguard vehicles and machinery.
Vulnerable areas of the road transport industry where due-diligence can save lives and injuries are highlighted by MAKROSAFE. These include:
Prompt response by emergency staff and personnel after an accident is reported can mean the difference between life and death. According to MAKROSAFE, transport workers must be well versed in every aspect of emergency procedures. Regular drills must be held to ensure that evacuation and first aid procedures operate smoothly to handle real-life situations when the lives are at stake.
Mechanical failure is a frequent cause of accidents. Regular services and assessments must be undertaken to ensure that vehicles and machinery function optimally.
SA Road Transport Industry Spotlight
South Africa's transport industry annual turnover is estimated at between R274 billion and R480 billion. The reason for this disparity is that transport costs are often offset against other categories. For example, major supermarket chains regard transportation as a cost centre and list savings under the retail savings category. Major retailers, that transport and store goods, often list these volumes under the retail category. The same applies to the steel manufacturing, cargo and sea freight sectors. The country is crisscrossed by thousands of kilometres of road and rail links, with a coastline stretching over 2 800km. A Statistics South Africa land transport survey published in mid-June 2019 reflected an increase of 5.2% in goods transportation. As home to one of the busiest domestic air routes in the world, the country's transport industry is a huge contributor to the national Gross Domestic Product (GDP).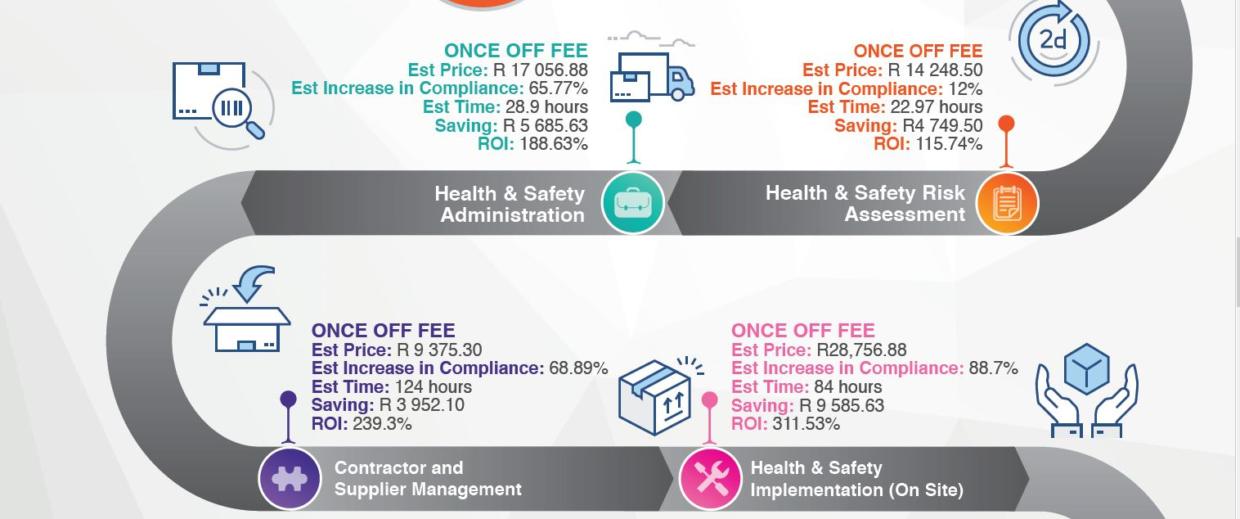 SafetyWallet's Total OHS Solution
Because Health and Safety procedures in the road and transport industry are complex, using the services of professionals, like MAKROSAFE and SafetyWallet, companies can enjoy a total OHS compliance solution. These are some of the aspects dealt with by the consultancy.
Health and Safety Compliance Audit
The most critical aspect of compliance in the South African workplace is the Health and Safety Compliance Audit. This ensures that companies comply with the OHS Act and Regulations, standards and by-laws.
Establishing the legal standing of a company's compliance in terms of the OHS Act is one of MAKROSAFE's invaluable services.
Another critical segment of the OHS Act is the Health and Safety Risk Assessment. This has to be conducted and monitored regularly to ensure compliance.
MAKROSAFE conducts risk Assessments to identify, control and manage risks and hazards in the workplace, safeguarding employees from possible death or injury.
Implementing Health and Safety Programmes
Health and Safety in the workplace is an ongoing challenge. It requires a thorough understanding of relevant legislation. For this reason, the involvement of specialists is extremely important.
MAKROSAFE's Health and Safety Programme Implementation maintains fundamental Health and Safety strategies and procedures to ensure OHS compliance.
Where SafetyWallet's rewards start from day one, when implementing your Health and Safety Programme.
Deaths, injuries, accidents, illnesses and unforeseen incidents are prevented with regular inspections of the workplace. By thoroughly examining the workplace, inspections help to identify hazards that need corrective action. Health and Safety committees should regularly conduct, monitor, plan and report-back on inspections. This will expose whether or not existing OHS plans are effective. It should also identify the possible existence of fatal hazards.
MAKROSAFE guarantees the efficacy and quality of this essential service as the first step to control damage in times of disaster.
SafetyWallet provides the technology to capture inspections on an android driven mobile device and gain access to a library of templates and checklists to simplify the process.
The objective of IODs is to prevent accidents. It also by-passes the time-consuming process of administrative follow-ups.
IODs should be handled by dedicated professionals, such as MAKROSAFE. Their intervention ensures the continuity of company operations and safeguards employees. IODs demand in-depth knowledge of the Compensation for Occupational Injuries and Diseases Act, as well as the OHS Act.
Maintaining Health and Safety Programmes
Maintaining Health and Safety in the workplace includes all ongoing follow-ups and administrative processes.
MAKROSAFE conducts an impartial observation of the health and safety situation and provides possible solutions to correct problem areas. This service ensures a risk and hazard-free workplace that is continually monitored by professional Health and Safety specialists, ensuring company compliance.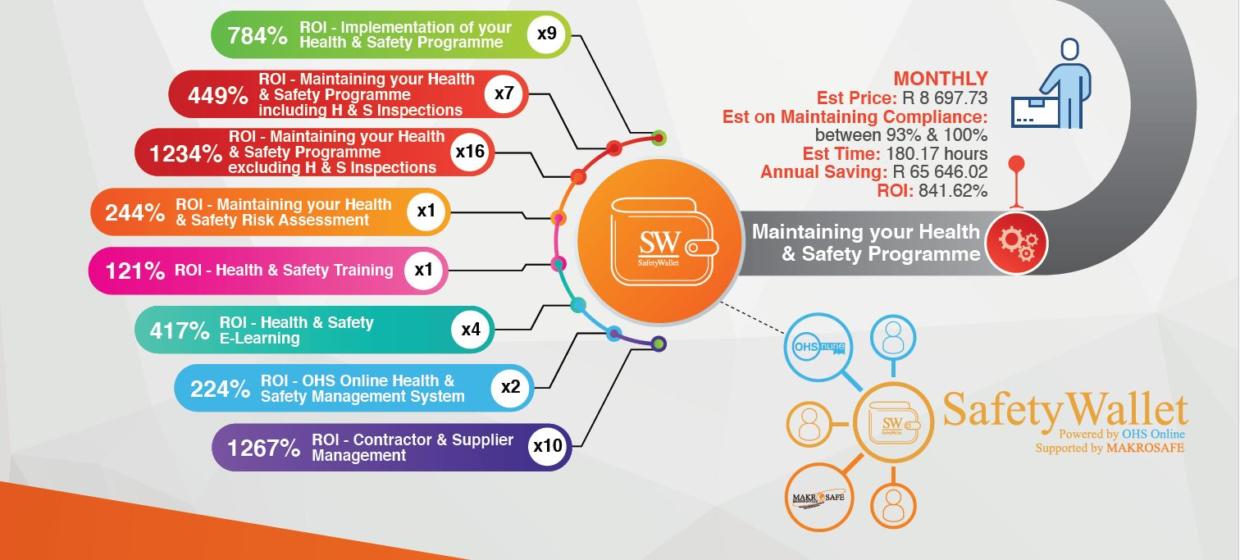 Additional Services
With branches nationwide, more than two decades of service in the field and thousands of OHS compliance clients, MAKROSAFE and SafetyWallet offers a variety of additional services to maintain a safe and healthy working environment. These include:
Managing and Tracking IOD's
Arranging and Managing Medicals
Load Testing
Refilling and providing first aid boxes
Servicing fire equipment
Site Files
Evacuation plans