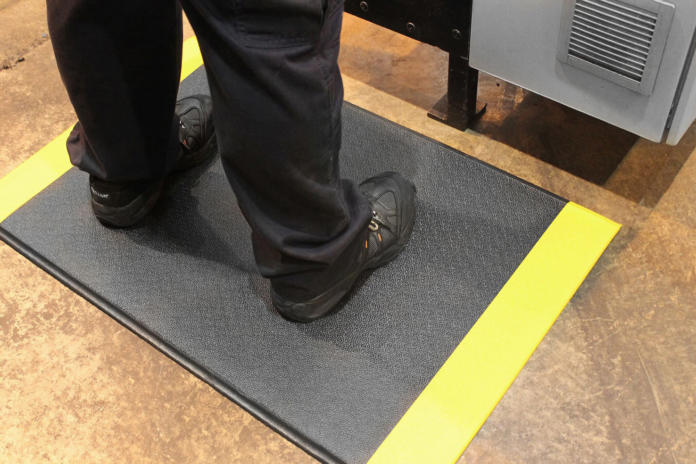 BMG's portfolio of safety and personal protection equipment (PPE) comprises workplace safety matting and floor safety products, designed to enhance safety in diverse sectors – including manufacturing, mining, construction and general engineering. This range also encompasses specialist floor safety products for use in non-industrial applications, like reception areas, clean-room environments, kitchens and canteens, shopping malls and shower rooms.
"BMG's floor safety products – which form part of the company's extensive range of tools and related equipment – is manufactured both locally and internationally by COBA Africa, in line with stringent quality and safety specifications," says Andrew Johns, business unit manager, Tools and Equipment division, BMG. "BMG specialists work closely with the COBA team to meet demand from our extensive customer base for durable under-foot safety products that improve safety in the workplace and also reduce fatigue from prolonged standing.
"Slipping is the highest cause of accidents in the work environment. Apart from the investment in essential floor safety products, we encourage regular cleaning of floor areas to ensure surfaces are free of wet and dry contaminants, for improved safety underfoot.
"The importance of floor level safety in the workplace should not be under-estimated. Research shows that Musculoskeletal disorders (MSDs) – which are conditions affecting muscles, tendons, ligaments, nerves and other soft tissues – as well as slips, trips and falls, are major causes of workplace absence. Preventative measures to reduce these risks are the responsibility of the employer. The investment in anti-fatigue matting encourages regular foot movement, promoting healthier circulation and the installation of anti-slip matting, flooring or coatings, significantly improve safety underfoot."
COBA Orthomat anti-fatigue matting provides a cushioned standing surface, to encourage regular foot movement for healthier circulation for workers standing in predominantly stationary positions. This matting, which is manufactured from 100% closed-cell PVM foam, has a pebbled, textured surface, suitable for dry environments. Orthomat matting conforms to slip-resistance standards and has been fire-tested to DIN54332 (B2) part of DIN4102.
COBA Rampmat anti-fatigue mats, with specially-designed drainage holes to release spilt liquids, are highly effective in wet and oily industrial environments. This matting, which is comfortable to stand on, is manufactured from hardwearing NBR rubber and has moulded bevelled edges to reduce trip hazards.
KwikLok interlocking floor tiles are designed for easy installation and recommended for refurbishing large area floor surfaces. These durable floor tiles are manufactured from high quality recycled PVC, which is non-conductive and fire-resistant.
Other safety matting for industrial applications includes MK3 rubber and drainage mats, COBArib anti-slip rubber matting, Grip Safe matting for enhanced grip and Knee-Saver mats, designed to ease the kneeling position required by some work procedures.
Matting for specialised areas includes Diamond Tread, with a flame retardant surface, which is suitable for welding bays and industrial applications. Unimat – a drainable rubber runner, which is easy to clean, roll up and move to another location – is suitable for event caterers. COBAswitch VDE is a lightweight electrical switchboard matting, designed for use in front of open switchboards and high voltage equipment, offering protection against electric shocks.
BMG also supplies safety products to prevent slips on internal and external steps and stairways. COBAGrip is manufactured with a chamfered back edge, in bright colours for high visibility. Abrasive grit anti-slip products provide additional grip underfoot on smooth surfaces and have a self-adhesive backing for easy installation. A self-adhesive foiled-backing for irregular surfaces enables rolling or hammering to the required shape.
Premier Grip matting is designed to reduce slipping in wet surfaces of shower areas, change rooms and swimming pool walkways and is comfortable to walk on barefoot. These flexible and hygienic mats have a top textured surface and holes and underside studs that enhance drainage. Premier Grip mats are easy to clean, roll up and relocate.
The COBA range of durable floor safety products is available from BMG's extensive branch network, which offers a technical advisory and support service throughout Southern-Africa