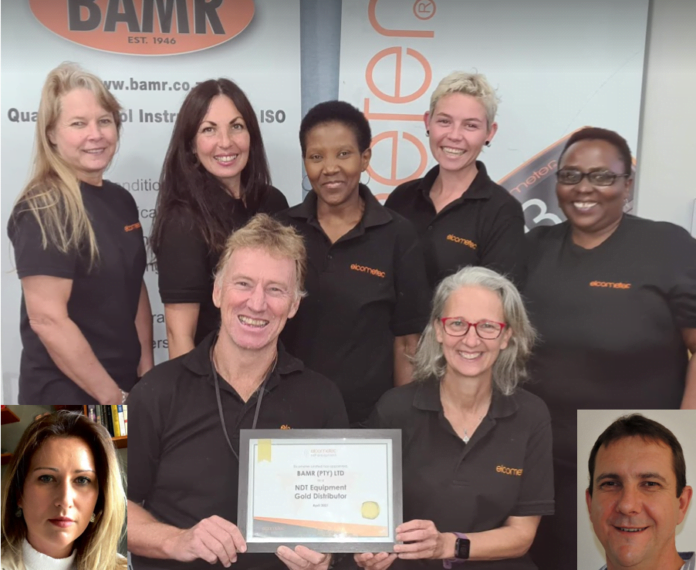 THE British Allied Manufacturers Representatives (BAMR) came into being on 22nd May 1946 and on this day in 2021, celebrates its 75th Anniversary – no mean feat when today, small companies with potential are often eaten up by competitors, conglomerates, or fail to survive beyond their fifth birthday.
As the lyrics of the song go – When the going gets tough, the tough get going – and global conditions just one year after the end of WWII, were indeed tough, but that didn't deter Fred Duk from spotting an opportunity and tying up an agency agreement with UK firm Elcometer, a Manchester based company that had developed its first Elcometer gauge used for the thickness measurement of different types of coatings on ferrous substrates.
These could be galvanised, anodised or painted, or any type of surface finish whether decorative or for corrosion protection, or both.
The relationship between BAMR and Elcometer has endured since the UK company first developed the model 101 in 1947. Its product range is now extensive covering surface preparation, moisture measuring, hardness testing, metal detection, adhesion, non-destructive testing (NDT) and climate condition testing, and many more sophisticated inspection instruments that today feature digital and ultrasonic hand held and probe type instruments for a variety of ferrous, non-ferrous metals, plastics and modern composites.
"The range of Elcometer products is quite amazing," said current CEO Graham Duk, grandson of founder Fred whose father Frank took over the business in 1961. Graham joined BAMR in 1998 after completing his accounting degree at UCT and slaking his travel wanderlust, to continue the tradition in this family owned and orientated business.
"As the Elcometer business has grown and become more sophisticated, so has our representation of the brand on the African continent" explained Graham.
"Although a CapeTown based business, we have key account managers in Johannesburg and in KZN and our footprint extends throughout Anglophone and sub Saharan Africa."
BAMR's key markets are extensive – anywhere where corrosion protective or decorative coatings are applied and that means from appliances and white goods found in the kitchen – to protective coatings found on oil and gas facilities and pipelines.
"At each stage of the value chain manufacturers, contractors and customers require an accurate, easy to use instrument to determine the quality and standard of surface coating is as specified and fit for purpose. All our instruments conform to relevant national and international standards. Elcometer instruments and equipment are manufactured to ISO quality certifications 9001 and ISO 14001 Environmental certifications and comply with virtually every country's quality standards including automotive, munitions and armed forces standards" he said.
"While working from home is a relatively new concept due to the COVID-19 pandemic, we have been doing it with a dedicated team since 1967 when we abandoned our city based address and created a comfortable, less stressed work from home environment" said Graham. "We are able to store most popular instruments on site as they are compact and occupy little space.
"BAMR is very much a family business and one where surface treatment runs in the veins – one of my brothers was involved in the business until recently and upon  his departure my wife Helena has got more actively involved. She has been instrumental in implementing on-line sales, the new website and other marketing related roles".
It is perhaps fitting that Graham as an active member of the Corrosion Institute is destined to become the Institute's next president and the first to be nominated outside of Gauteng. His aims are to promote transparency and inclusivity in the role and to continue with the well-established programmes of courses that highlight and identify the problems of corrosion which it is estimated have a cost impact of 3% of worldwide GDP.
"BAMR and Elcometer sponsor instrumentation for the NACE courses that are run by the Corrosion Institute with our key accounts manager in KZN being one of the lecturers who conducts these specialised courses around the country.
"Elcometer sponsored training and new equipment courses are regularly staged to interested parties around the country and we usually try & make this a yearly event although with current scenarios this will be a challenge."
"Sadly the impact of and technology required to combat corrosion are not taught as university engineering subjects, so the Institute's educational programmes have a vital role to fill this important gap" he concluded.
Contact