The Westin Cape Town opened their newly renovated rooms to media on Tuesday 26 February. Media representatives are invited to tour the facilities at The Westin, which include their organic rooftop garden and reverse osmosis plant, by appointment.
Sustainable practice
Listed as one of Green Destination's Top 100 Sustainable Destinations, Cape Town has a long history of responsible tourism. But local tourism attractions and hotels need to sow sustainability into their everyday workings, making green living a daily practice.
The Westin Cape Town, situated in the CTICC precinct in the Foreshore, boasts two flagship sustainability initiatives: a rooftop garden, providing organic herbs and edible flowers for guest's meals and beverages, and a reverse osmosis plant.
"Cape Town relies heavily on her natural beauty to draw tourism. The onus is on local businesses to protect and reduce their impact on the natural environment," says Leon Meyer, General Manager of The Westin Cape Town.
"The Mother City is well-known as a responsible tourism world leader, but the hospitality industry needs to have sustainability at the centre of their business models."
Good enough to eat
The garden, on the rooftop of the hotel's 19th floor, provides organic ingredients which speak to the hotel's wellness philosophy and "EAT WELL" programmes.
"The rooftop garden serves as a great eco-friendly resource in the growing methods we practice, and provides nutritionally dense produce that we can control from a safety and quality perspective, which is a big part of our hotel wellness and responsible tourism movement," says.
The garden operates in a fully-recyclable capacity, whereby an automated drip irrigation system collects excess water to be recycled through a pump. The rooftop also boasts a small scale wormery where kitchen food waste is fed to the worms and the fertiliser produced is used to nourish the plants.
Water-wise
The rooftop garden is not the only way the hotel is saving water. The hotel's reverse osmosis plant is expected to save the establishment millions of litres of water a year and significantly reduce its dependency on municipal water.
As the water crisis deepened late in 2016, the hotel took steps, along with its immediate water-saving initiatives, to implement a long-term water-saving plan which involved building the reverse osmosis plant.
At present, owing to the Westin being built on land reclaimed from the sea, the hotel uses five rotating pumps to extract around 1.2 million litres of seawater from its basement level per day. This seawater will now be re-routed into the plant, situated in The Westin's secure basement area, to produce around 441 000 litres of clean, purified water per day. As a result, the establishment is expected to save over 100 million litres of municipal water a year.
"It's important to note that even though we're extracting 1.2 million litres of seawater on average from the ocean per day, after the desalination process, the total litres of clean, usable water extracted will be significantly less," Meyer says.
Design transformation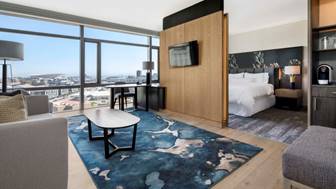 The Westin Cape Town has undergone a 220-guestroom revitalisation on all executive club level floors. Their signature Heavenly® Bed remains at the heart of each guestroom providing unparalleled sleep and rejuvenation. The sleek, modern and comfortable design with minimalist and clean spaces will ensure maximum productivity, whilst the calming decor will inspire relaxation and re-energise.
In addition, they have opened the new Westin Club, a dedicated lounge designed to inspire, enrich and enhance the executive club guest experience.
"We are committed to creating inspiring, relaxing and productive guestrooms that will leave our guests feeling more rested, rejuvenated and energized to take on their next challenge. Our guestroom revitalization was designed to enrich and enhance our guests' stay and experience whilst ensuring our offering remains competitive, modern and uncompromised in function and aesthetic," Meyer says.
The renovation – the first since the hotel's opening – is estimated at around R150 million and will result in all 483 guestrooms being fully renovated.