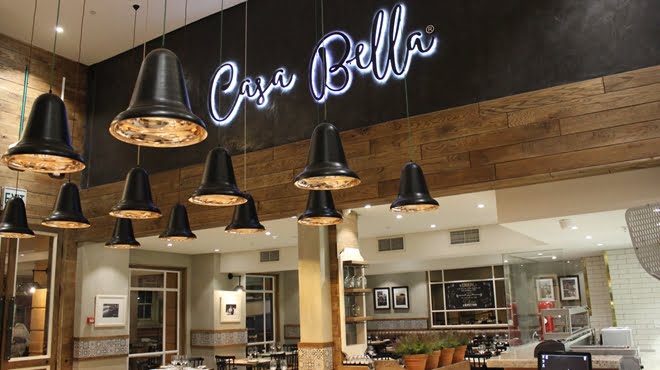 Casa Bella meaning "Beautiful Home" is a place where everyone is always welcome. It is a home that runs on love, laughter, delicious food, outstanding wines and exceptional quality and service.
Situated in the buzzing entertainment hub of Grandwest Casino, Casa Bella offers a warm, inviting interior for an upmarket yet friendly dining experience. The restaurant also offers a mezzanine level perfect for business lunches, meetings, birthday parties or any other celebratory gathering.
The menu fuses Italian heritage with contemporary finesse to offer customers fresh meals that are beautifully prepared and made from the finest quality ingredients.
Inspired by the Neapolitanstyle of pizza, Casa Bella pays homage to the original hand-pressed, wood-fired pizzas of Naples, made solely from imported Italian flour. Guests can enjoy classics  such as the Authentic  Margherita made using Buffalo mozzarella, sweet Italian cherry tomatoes and basil leaves as well as other Italian pizza favourites featuring Parma ham and pancetta.
Pastas are freshly made daily from 100% Durum wheat using a magnificent, imported I talian pasta machine for guests to enjoy the theatre and art of pasta making. From the classic Penne Arrabbiata smothered in their home-made Napoletana sauce, to the decadently rich and creamy Gogonzola Gnocchi, pasta sauces are freshly made to order and never disappoint.
The menu also offer a delicious selection of grills such as T-Bone Florentina , Oxtail, Lambshank, Prawns and Fillet Gorgonzola, which are expertly prepared and adorned with the finest herbs and spices.
Casa Bella Grandwest is the perfect restaurant for diners to relax and socialise while enjoying outstanding pizzas, pastas, and grills with great wines and superb service.
For more information:
Shop30, Grandwest Casino Complex, Jakes Gerwel Drive, Goodwood.
021 534 0924