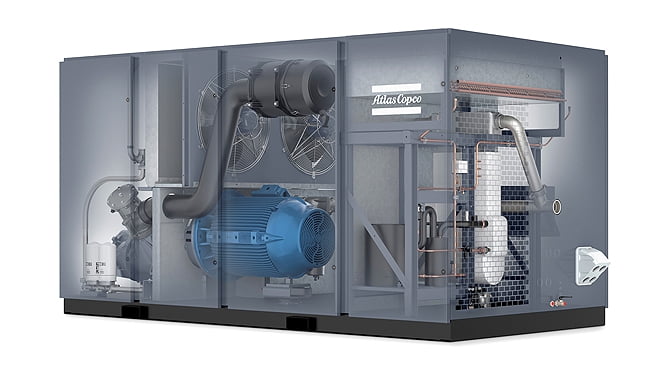 According to the company, Atlas Copco Compressor Technique's VSD technology substantially improves the energy efficiency of a compressed air system resulting in significant savings and sustainable productivity. Compressed air is one of the most important utilities in industry, but it is also one of the largest consumers of energy.
According to Charl Ackerman, Atlas Copco Compressor Technique's Industrial Air Business Line Manager, energy consumption typically represents over 70% of a compressor's life cycle cost.
"In addition to South Africa's protracted energy crisis which is debilitating mining and industry through interrupted production, escalating energy costs is inevitable. Alternative energy sources like solar and wind power are very expensive and not always practical."
Ackerman says forward-thinking industries that are already now committed to finding effective and sustainable ways to conserve energy will reap cost saving benefits over the short- and medium-terms, which will increase exponentially over the long-term. Compressed air installationspresent massive energy saving opportunities for end-users.
"Through analysing, optimising and monitoring a compressed air network, we are able to minimise losses and maximise operational efficiency for the end-user."
While there are a number of areas in a compressed air installation where wastage can occur, optimum air flow is one area in particular that can deliver significant energy savings.
"This is where our VSD technology comes into its own. With energy savings of up to 35%, a GA VSD compressor is an investment in sustainable plant operation," he continues.
Pioneered by Atlas Copco in 1994, the VSD compressor matches air supply to air demand in processes where air demand profiles fluctuate.
By varying the speed drive of the drive motor, the compressor follows fluctuation in production demand; as air demand declines or is reduced, the GA VSD lowers the delivered flow and consequently the power consumption. Motor speed regulation is the most efficient compressor control method where air demand varies, because the inefficient transition period between full and no load is eliminated that avoids excessive off-load power consumption. Maintaining the net pressure band within 0.10 bar (15 psi,) greatly reduces the overall average working pressure and energy costs. In addition to end-user benefits, VSD technology also conserves natural resources. The extensive Atlas Copco's oil-injected rotary screw GA VSD compressor range available from 5.5kW up to 160kW, ensures there is a unit perfectly suited to meet any compressed air requirement.
Other elements fundamental to maximising a compressor network's efficiency such as eliminating leakages in the air delivery system and optimising oil injection, temperature and air quality, highlight the importance of regular expert service and maintenance. Atlas Copco Compressor Technique's service division is dedicated to the delivery of total customer care at all levels of service interaction, from remote monitoring and optimisation to standardised genuine OE parts and tailor-made service plans.
"As a performance partner with a customer-centric approach, we establish long-term relationships and deliver complete air technology solutions that deliver the benefits of lowest total equipment and operational costs to our customers," concludes Ackerman.