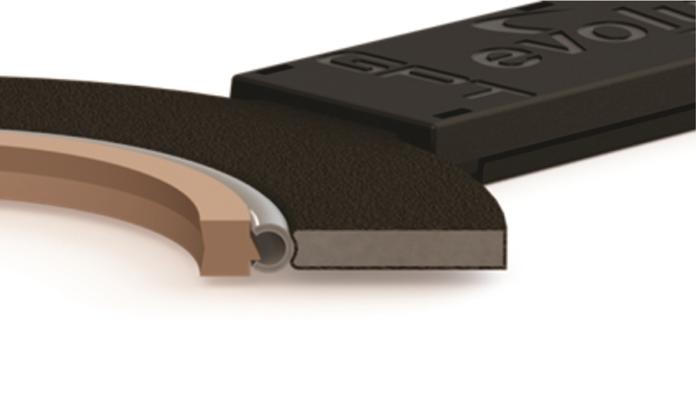 BMG has recently launched EVOLUTION™ fully-coated isolation gaskets that meet the demand from the oil and gas sector, for sealing and isolation products offering improved leakage rates and safe and reliable performance in high-pressure applications.
BMG's new EVOLUTION isolation gaskets have been developed by Garlock Pipeline Technologies, incorporating advanced gasket technology and design benefits, into one robust system, for dependable pipeline isolation.
Key features of EVOLUTION isolation gaskets include easier installation, tight sealing, high-temperature operation, zero permeation, hydro-testing isolation, fire-safety and chemical-resistance. These gaskets also have low emission values to meet stringent environmental and safety standards.
"Garlock isolation gaskets, which are unaffected by moisture or humidity, are the first gaskets of their kind, to be fully-encapsulated and this is a major advantage in tough pipeline installations," says Wayne Holton, BMG's business unit manager, Bearings, Seals and Gaskets division. "EVOLUTION isolation gaskets, with a thinner, 3 mm retainer, are easy to install without damage and do not have the creep relaxation problems which are often associated with conventional Glass Reinforced Epoxy (GRE) isolation gaskets.
"Although standard GRE gaskets – which use a leak-to-seal technology – provide efficient isolation and sealing in some applications, we have found that as operators need to drill deeper, GRE materials become vulnerable over time, as they are subjected to degradation from aggressive media in the pipelines.
"EVOLUTION's proprietary material coating eliminates the need for costly exotic cores, as there is no exposure of metal to aggressive media. These gaskets, with high-dielectric strength, are abrasion and impact resistant, while providing chemical resistance to H2S steam, CO, CO2 and other chemicals often found in oil and gas pipelines."
EVOLUTION isolation gaskets – which encompass Gylon ID seals, with resistance to oil and gas chemicals – allow the gasket to be hydro-tested in the pipeline, with no compromise on its isolation properties.
The new full-coating encapsulation, with a 316LSS core, comprises pressure-energised seals and metallic-coated C-rings for advanced sealing, also enabling the gasket to withstand extreme temperature swings in the flange. For improved safety in the oil and gas industry, integrated fire-safe Inconel 718 seals are standard.
Other features include a built-to-match pipe bore and a short moment arm. The robust glass-reinforced handle is made of an abrasion, impact and UV resistant thermoplastic material.
Extensive sour media testing of EVOLUTION gaskets show there is zero permeation and no degradation of the gasket. These gaskets have also been subjected to fire, abrasion, scratch and impact tests. Steam and chemical exposure testing of the coating confirms these gaskets can efficiently handle the demands of a typical pipeline installation.
Garlock Pipeline Technologies is a leading manufacturer of critical-service flange systems, spring-energized jacketed seals and electrical flange isolation kits for the oil and gas, water/wastewater, chemical, energy, construction and infrastructure industries.
BMG's Garlock high-performance seals and sealing systems also include metallic and Gylon gaskets, oil seals, bearing isolators, expansion joints and butterfly valves. Components extend from a standard sealing ring, available from BMG stock and ready to install, to customised designs, which are fabricated to specific requirements.