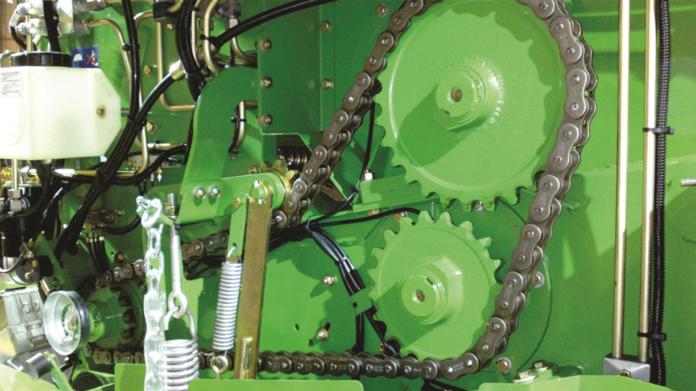 "THROUGH its Boer Slim/Smart Farming initiative, which was launched approximately eight years ago, BMG offers farming sustainability solutions that focus on effective food production, the correct use of suitable equipment for the specific task and the efficient application of advanced technologies," explains Carlo Beukes, agricultural manager, BMG. 
"BMG's extensive range of engineering components, which conforms to all relevant quality assurance and specification certifications, is carefully selected for local farmers, to ensure optimum performance – even in tough operating conditions." 
A recent success in agricultural engineering for one of BMG's key suppliers – Tsubaki – was solving the chain breakage problems on harvesters, as a result of excessive shock-loads in the field. 
Tsubaki's solution was to develop a heavy-duty reinforced roller chain to meet the high-volume capacity of agricultural machinery in tough operating conditions, with no risk of breakage during operation. The robust Tsubaki RS100HT chain for balers has a 25% higher maximum tensile strength, improved anti-shock performance and greater fatigue strength, when compared to chain manufactured by other companies. . 
Almost 70% of global OEM baler manufacturers now choose the Tsubaki heavy–duty chain series as standard for installation in the main drive system. A further benefit is that heavy-duty Tsubaki chain can also prepare perfect bales, as these chains are suited to the high pre-tension settings required to allow easy storage and shaping of hay.
BMG's new reinforced Fenner Triflex couplings are also new to the range. These durable couplings are designed to compensate for axial, radial and angular misalignment, even in arduous conditions. The high-quality elastomer elements, with reinforced cord inlays, provide effective dampening for torque peaks and shock loads, also absorbing start-up impacts. Rubber components, which provide additional support and protection, also reduce noise levels during operation. 
Typical agricultural applications for this range include pump systems, hydraulic drives, conveyor drivelines and wood cutting machines and shredder applications.
An important focus for BMG in agricultural technological advancements, is on the selection, installation and operation of the latest electromechanical systems – including Motoline solar inverters and electronic variable speed drives (VSDs), which are designed to improve efficiencies, reduce energy consumption and minimise maintenance requirements.
Other recently launched agricultural equipment includes slogging hammers and wheel sloggers, which are used to loosen and tighten bolts and nuts quickly and easily; BTC gearboxes, which have been specifically designed for packhouses. 
Dual direction multi-purpose gearboxes, PTO clutches and components and specially designed heavy-duty coulter bearings are also new to the range.
Contact