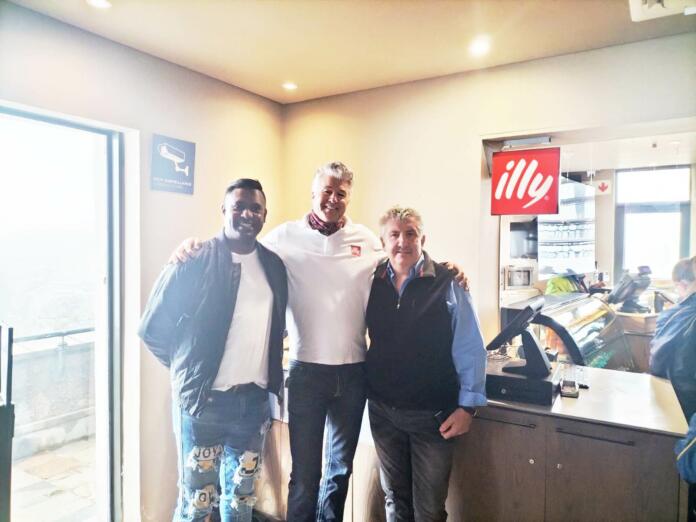 Against a backdrop of adversity, firstly the pandemic, then a medical catastrophe, the rise and rise of the coffee business has created a lifeline for many of those affected. The editor discusses their stories with Chris Milias and Jerry Finley; two such individuals affected in different ways.
"IT's an ill wind that blows nobody any good" so the proverb states and some may scratch their heads as to how anything good may have come out of the COVID 19 pandemic, but, as they say, life goes on and people make a plan, and sometimes that plan turns into something good and unexpected.
So it has been with certain suppliers to the coffee 'society', some may say a fad or fashion that comes and goes but its popularity has certainly reached a craze here in our metropoles, Cape Town especially where the growth of coffee shops and restaurants serving 'designer' brands and specialties abound. Lockdown sufferers now crave to socialise and what better place than a coffee shop?
Local distributor of the famous Italian brand, Illy, Chris Milias has been in the coffee business for more than 24 years, purveying different brands but since 2005 it has been with the Illy label.
"Right now we are experiencing a wave of high demand for premium coffee brands and with relatively low barriers to entry, competition is fierce" said Chris.
"Apart from the fashion upswing, the pandemic cost many people their jobs and businesses and it didn't take long for those badly affected particularly from the hospitality industry, to recognise the opportunities presented by the coffee business.
"There has been a proliferation of new coffee shops and corner kiosks opening and even mobile trailer mounted coffee outlets, all designed to satisfy the public's craving, which incidentally has switched from a 90% preference of filter coffee to Cappuccino – filter only having a 5% market share amongst brands.
"Owners of restaurants that survived the lockdown have quickly realised that public tastes are fickle and they must have a premium coffee brand available to complement their food offering if they are to prosper."
With Illy at the forefront and offered in prestige outlets such as the Mount Nelson Hotel, Table Mountain Cafe, The Bala Restaurant in the Waterfront, Rusto in Canal Walk, the Oppikoffie group of coffee shops, The Lighthouse Café in Blouberstrand and recently added the Gusto restaurant in Century City, one would think that Chris would be riding a wave of euphoria, but that passion was cut short when six months ago, he was diagnosed with a brain tumour. Five months of hospitalisation saw Chris have nine brain operations coupled for good measure, with a dose of Covid and loosing 27kg as specialist surgeons and medical teams battled to save his life, and, they did.
While in virtual solitary confinement in hospital, Chris' wife and son stepped into the breach to keep the Illy flag flying in a post Covid Cape Town and now with Chris on the mend and back in the saddle, but with a very different outlook on life, Illy coffee should be seen at many more establishments.
While not of the medical kind, Blouberstand's Lighthouse Cafe owner Jerry Finley suffered similar adversity when his popular guest house business of 18 years standing, imploded due to the lockdown.
"Most of my clientele were overseas visitors and literally overnight the lockdown regulations wiped out a lucrative business" he explained.
"As the regulations eased and more and more people were allowed to resume their 'normal' lives, the beachfront at Small Bay proved again to be a popular venue, and while idling away some time I noticed the volumes of people heading for the beach was significant, and that was the lightbulb moment when I decided to turn a failed guest house into an Illy Coffee shop! I had the location on the only access to the Beach and coupled with that a beautiful 'Seaside Garden' where people could gather, socialise and of course, drink coffee and have a pastry, while being treated to the best views over the City, the Mountain and Robben Island.
"Over a short few months the Lighthouse has gained enormous popularity throughout the day but particularly for the 'early birds' – runners, walkers and cyclists who after their exercise spend a relaxing half an hour sipping cappuccino, eating a pastry and socialising before going off to work" concluded Jerry.
So the proverb seems to ring true for at least these two individuals who have turned adversity into opportunity while taking their lives and fortunes in different directions.
Contact