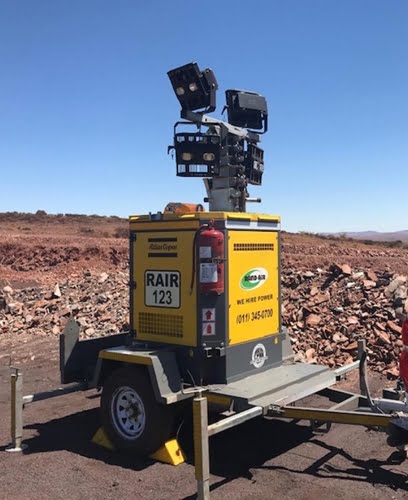 RAND-Air, part of the Atlas Copco Specialty Rental division, providers of air, nitrogen, power, flow (pumps), steam boiler and lighting solutions, were recently able to provide an off the shelf lighting solution to a customer from its Kathu depot in the Northern Cape.
The unit, a 6.5 kVA QLB 60 lighting tower is energy efficient and provides exceptional luminous coverage.
Complementing the efficiency of this one-month hire are the QLB's features including sealed-off components for optimal operation in the dusty conditions of the Northern Cape, fuel efficiency (using only 0.5ℓ/hour), lower exhaust emissions, a spillage-free frame with internal filling inlet and easy, clean drainage of all liquids; as well as ease of use with a manual and automatic switch and remote start functionality.
The tower is fully roadworthy, allowing for easy transport to and around the operations site.
Rand Air provide 24/7 technical assistance for the duration of the hire and carry a comprehensive stock inventory at the depot should spares be required.
Contact