IT's taken Arthur Shipalana and the now deceased Willem Walters more than 20 years to break into the capital intensive deep sea hake sector. Willem and Arthur registered the company way back in 1997 in order to apply for a pilchard and anchovy quota. Their early attempt at securing a quota yielded them a small non-viable pilchard quota. This sad state of affairs placed them in awkward position as no bank would finance a non-viable enterprise and for that matter a startup company. Through their determination, hard work and more than a little luck they approached Willem's brother who ran a small fishing company in the West Coast. He too was in a similar position of trying to manage a company with an unviable quota. It was agreed to run the two entities as a joint venture initially. It was also agreed that with a passage of time the black shareholders of the other company will acquire shares in the West Coast based company (Visko) in order to make it compliant with BEE legislation.
In 2005 the two joint venture companies applied for a deep sea hake quota and were both lucky each to be awarded a small combined non-viable allocation. Despite this setback their determination to participate and succeed in this highly competitive and financially challenging industry propelled them to acquire a vessel from Morocco owned by Spanish national.
Those familiar with the quota system for deep sea hake and pelagic species will agree that the system of regulation and the apportionment of quotas isn't particularly user friendly process and is particularly hostile to small players with limited resources even to those who are supposed to be seen as making meaningful contribution towards the transformation agenda.
And the fishing industry is fraught with risk and not for the fainthearted. The sea can be an unforgiving, dangerous place with unpredictable weather patterns that affect catch sizes, highly regulated employment and labour practices, fluctuating operational and maintenance costs and the logistics of getting the catch to market in pristine condition, not to mention plenty of competitors.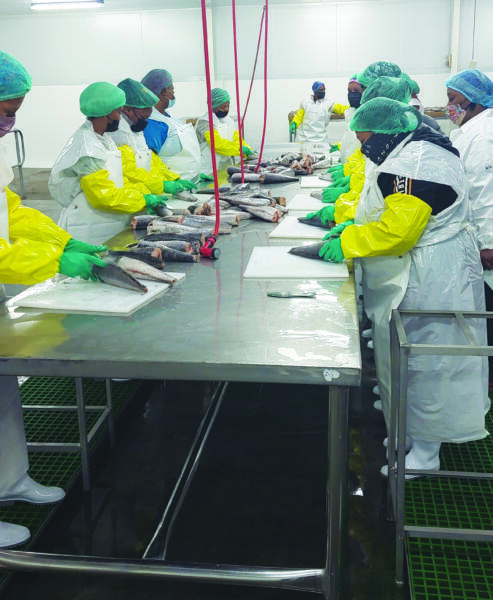 Early days with big ambitions and mountains to climb
For their venture to succeed it needed to be involved in more than one specie and involved themselves in hake deep sea, small pelagics (pilchards and anchovy) and squid. Each of these species has their own challenges in terms of method of harvest, type of vessel, marketing, times of harvest. Participation in more than one specie offers the participating companies an opportunity to survive during the collapse of one or two species. This has been the case over the past four years where the catches of pilchards and squid have been severely depleted, threatening companies reliant on this resource with closure.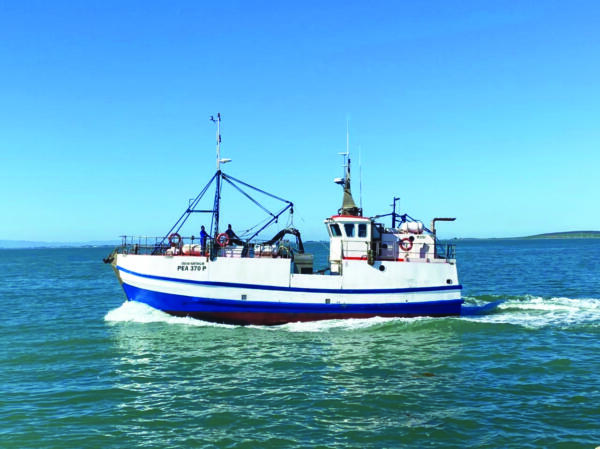 Their tenure in the hake deep sea sector has been met with many challenges relating to cost of maintenance, crewing, cost of diesel oil and inadequate quota allocation. Due to a lucky break, they were able to link up with a fish marketing company in Spain which was willing to enter into a long term relationship: the Spanish were prepared to assist in raising capital needed to finance the purchase of the vessel and other costs associated with major maintenance and breakdowns.  In return for the assurance, all catches are sent to Spain. This arrangement became a catalyst for interdependence and complete trust, allowing growth by tapping into a bountiful export market.
Expansion
One of the most notable achievements in their journey to become a significant player in the fishing industry is attributed by the long vision of identifying youthful talent to help drive the business. Today the founding members Arthur Shipalana, Frederick Walers and Lulamile Xate have identified young and dedicated professionals to help steer the company. Pheobius Mullins is the Operations Executive, Jacques Van Zyl, the CFO and Morne Sinden, the Fleet Executive.
Operations have been split into four areas: deep sea hake trawling, squid and small pelagics, trawling division and the factory processing facility. A recent upgrade of its factory into a HASSIP compliant facility complements what vessels are processing at sea,
The four squid vessels which are all Gqeberha (Port Elizabeth) based as squid is caught around Gqeberha / Cape St Francis Bay / Humansdorp areas. Despite initial reluctance to market squid, the Spanish marketing partner now can't get enough product to satisfy customer demand!
Before the disappearance of pilchards the newly converted factory used to pack bait which was in high demand outside RSA, principally to the Australian and Fiji markets.
In the course of analyzing its business operational cost structure the company identified logistics is a potential area of saving if done internally. A young and highly knowledgeable young man was recruited in order to form a company. This decision was a great saviour of our operations.
Conclusion
The success of these entrepreneurs is the epitome of what develops a thriving economy and that means creating in their case, security of employment for close to 200 people while developing an expanding export business that generates valuable foreign exchange for the country. Their journey has not been easy one often dogged by red tape, abuses and unnecessary bureaucracy but faith and determination has won through. What an example!
Contact:
Mr Arthur Shipalana
e: arthur@inxfreight.co.za   t: +27 (0) 21 510 6912   m: +27 82 774 5165
Contact