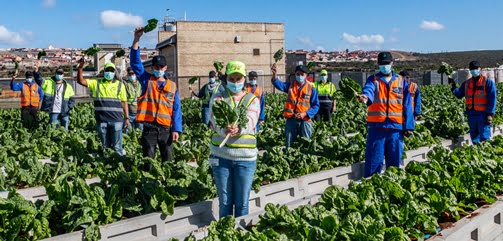 SAB, in collaboration with its partners, WWF South Africa and The Nature Resource Management Programme, has released approximately 2.5 billion litres of water into rivers and basins over the past 6 months through watershed investment. SAB is proud to launch a one-of-its kind initiative, Project Popeye.
Just like the cartoon, hero and sailor man Popeye saved his beloved Olive Oyl with a healthy dose of spinach, so too is the South African Breweries (SAB) providing economic salvation to a local start-up Business near its Ibhayi Brewery in the Eastern Cape. 
SAB, through its Ibhayi Brewery and the Project Eden Water Conservation Park (another SAB initiative that involved the construction of an artificial wetland), will be developing a commercial 2000m2 drip irrigation system, that will help a local business sustainably grow spinach in raised beds. 
The unique value of Project Popeye is that the water and nutrient requirements of the crops are fully provided for by the wastewater generated in the brewing process, with no requirement for additional water or fertilisers. The spinach beds only "use" roughly 10% of the water flowing through it, with 90% still available for reuse and this "polishing" of the water allows the brewery to recover more water through its water recycling plant. The losses from production normally become a waste management liability for a business and, all too frequently, society or the receiving environment. In SAB's unique approach these nutrients can be transformed into a new agricultural product. This turns a potential loss into a sustainable business with a literally green product – true circularity in action. 
To comprehend the depth of impact of Project Eden, and in its wake Project Popeye, one needs to travel back to 1998, when Mr Martin Davies of Rhodes University was involved in conceptualising the innovation. 10 years later, SAB made an initial investment of R1 million towards Project Eden and over the following 13 years, the University's Prof. Cliff Jones from the Department of Ichthyology and Fisheries Science has led this research and development as a joint project with SAB. In collaboration with crop scientists from University of KwaZulu Natal and with financial support from the Water Research Commission (WRC), they developed and tested these innovations on experimental and pilot scales. "This is the triple helix at its best. SAB is leading the way for the sustainable use of our limited water resources while creating significant and tangible social benefits through the incorporation of the circular economy and water energy and food nexus principles,." Mr Dhesigen Naidoo, CEO of WRC.  
Contact