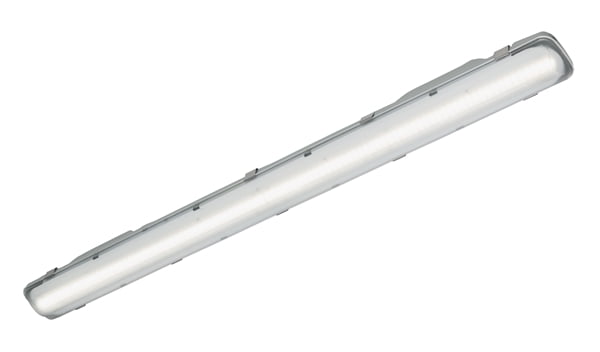 AVAILABLE in a 4ft and 5ft version, the locally designed and manufactured BEKA VAPOURLINE offers a robust and efficient LED alternative for replacing fixtures fitted with T5/T8 fluorescent tubes.
Designed to provide a long-term solution for harsh industrial environments, the BEKA VAPOURLINE has a strong mechanical design that makes it highly resistant to shock and vibration while its IP rating makes it ideal for dusty and wet locations.
This high-performing luminaire provides an energy-efficient lighting solution. With a lifetime five times longer than a fluorescent tube, this modern linear LED luminaire lowers the total cost of ownership of a lighting installation and eliminates the need for maintenance.
For the 4ft version, the LED modules are clipped into the diffuser, creating a protected and enclosed optical compartment within the luminaire. This will prevent any premature damage to the LEDs during installation or during maintenance.
The 4ft and 5ft versions are suitable for Zone 2, 21and 22 locations. In a Zone 2 location, operations are concerned with flammable or explosive substances, gases, or vapours or volatile liquids and which are so well controlled that an explosive or ignitable concentration is only likely to occur under abnormal conditions. Zone 21 and 22 locations are those which are hazardous because of the presence of combustible dust and fibres.
The BEKA VAPOURLINE creates safe and comfortable working conditions thanks to its low glare and high colour rendering index to optimise productivity.
Key features include:
Like most BEKA Schréder products, the BEKA VAPOURLINE is locally designed and manufactured, thus taking Africa's harsh environments and conditions into account
Available in Zone 2, 21 and 22 versions
Cuts energy costs by up to 50%
Uniquely designed optical compartment to meet LED lifetime expectation
Easy installation and maintenance free
High colour rendering index: CRI 80
High luminaire efficacy (up to 169lm/W)
Uniform luminance with low glare due to prismatic diffuser design
Long service life: over 60 000 hours (L70B10)
No ingress of dust and moisture into the LED and controller compartment – IP 65
Vandal-resistant – IK 08
Robust corrosion-resistant housing and diffuser
Stainless steel latches
Supplied with complete surface mounting kit
Optional 1-hour emergency back-up
Surge protection 10kV/10kA
The BEKA VAPOURLINE offers other suitable applications, such as for industrial halls and warehouses, car parks, public buildings, office buildings or sport areas.
Contact