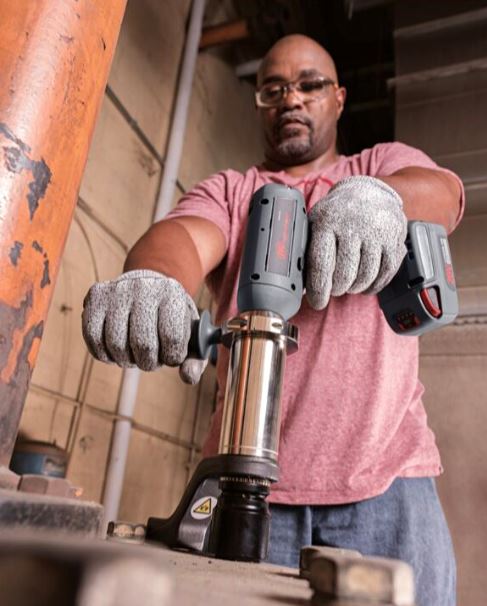 BMG's Tools & Equipment division supports its extensive range of quality-branded equipment with a technical-advisory service, assisting customers throughout the country with the selection of the correct tools for assembly, manufacturing and maintenance.
"Our extensive range of Ingersoll Rand fastening tools for heavy equipment assembly and maintenance procedures, extends from basic tightening devices to high-tech assembly equipment," says Andrew Johns, Business Unit Manager, tools and equipment – BMG. "In the selection of new tools for a facility, the BMG team works closely with customers to determine which impact tools are required for specific operations and how these new tools will integrate into manufacturing lines and with IT departments. Specifically, we need to consider what type of impact tools are required to meet fastening requirements; we assess whether current tools are fulfilling the company's traceability requirements and how existing fastening processes can be streamlined, by introducing high-technology tools. It is also important to determine what infrastructural changes need to be made to accommodate the new tools.
"It is important in tool selection to determine whether safety or quality is critical for the specific application. No matter what tool is used for bolt tightening, it is essential that bolts are tightened to torque every time, to ensure bolt integrity and to prevent injuries or thread damage."
BMG's Ingersoll Rand fastening tools have been designed to meet the demands of automotive assembly, vehicle service and heavy equipment manufacturing sectors, that require reliable and accurate tools to achieve stringent quality and safety standards.
Key tools in this range include impact wrenches, pneumatic fastening tools, Direct-Current (DC) fastening tools and high-torque cordless fastening tools.
The Ingersoll Rand QX Series® Cordless Torque Multiplier is a cordless fastening tool, with advanced torque control, that enables mobile work and increases worker safety, because there is no need for an air hose on the line. An added benefit is reduced noise levels during operation.
The closed-loop transducer of this tool ensures precision, accuracy and traceable results. Operators are able to programme to achieve multiple speeds throughout the rundown process.
The advanced setting, which is easy to implement, prevents over-tightening of bolts and ensures higher accuracy. This tool records data for up to 1 200 fastenings in the onboard computer, which eliminates the need to manually record torque values.
BMG recommends the investment in Ingersoll Rand QX Series cordless precision fastening systems for increased productivity, cost-efficiency and a quality product at the end of the production line. The integration of these advanced tools improves process control, operator comfort and data communication.
Ingersoll Rand cordless and pneumatic impact wrenches, with an efficient power-to-weight ratio, are suitable for automotive services and industrial production – particularly for removing stubborn bolts. Operators use pneumatic tools for applications that require high torque, like larger bolts affixed to heavy equipment and agricultural  machinery. To avoid injury during operation of pneumatic tools, BMG specialists recommend the use of a reaction bar to offset the force of the torque applied to the fastener.
Although Direct-Current (DC) fastening tools provide a high level of accuracy and traceability, they have a slower fastening speed than other tools and mobility is limited by attachment to a power cord. BMG's electric fastening systems include hand-held and fixtured tools, as well as controllers and software to ensure enhanced ergonomics, speed, durability and accuracy that maximises productivity. Integrating DC electric fastening tools into a manufacturing facility requires consultation from technical experts and professional training for operators using the tools.
Other Ingersoll Rand products available nationally from BMG, include screwdrivers, air nutrunners, drills, pulse tools, grinders, scalers, sanders, air riveters and hoists.