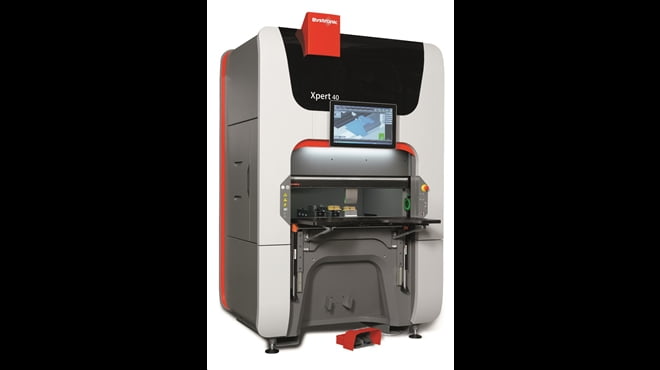 In the world of manufacturing, the term 'Industry 4.0' describes a manufacturing process whereby 'intelligent' machines are linked by an IT network to fully coordinate and optimise all production. Central to Industry 4.0 is a high level of automation: a concept which promises to drive manufacturing into a new age of efficiency.
Machine Tools Africa 2017, which runs from 9 – 12 May 2017, is an excellent opportunity for manufacturers to update themselves about Industry 4.0 developments. Here First Cut, a leading South African distributor of cutting consumables and capital equipment – and a vigorous proponent of Industry 4.0 – will welcome the manufacturing industry to Hall 6 stands D06 and C12.
"Sophisticated automation available in capital equipment – such as in fibre laser cutting or tube bending – has the power to revolutionise manufacturing and organisational productivity to previously unknown levels," says Andrew Poole, Managing Director of First Cut.
Poole adds that this is particularly true in South Africa, where the majority of manufacturing businesses have been slow to adopt and adapt to the so-called fourth industrial and automation revolution – or Industry 4.0 as it is commonly known.
"However, we see that in businesses which do embrace it, automation results in increased levels of productivity, significant reduction in cost per part, exponential financial returns, and organisational streamlining," he points out.
This year – amongst other offerings, and in line with the ethos of Industry 4.0 – First Cut will be showcasing a range of innovative, automated capital equipment from their leading global principals such Bystronic, Timesavers, Everising and BLM. 
One of the flagship products on long-standing First Cut principal Bystronic's stand will be the Bystar 10 kW fibre laser, which is the most powerful laser on the market at present and offers unmatched speed and cost-competitive efficiency.
"This 'warp speed' fibre laser will deliver the highest parts output and premium cutting quality right through the range of sheet thicknesses up to 30mm; while also cutting exotic metals such as copper, aluminium and brass without the need for rework," explains Gareth Jackson, First Cut's Bystronic Sales Director.
Jackson adds that a maximum degree of operating convenience and transparent process control is provided by the intuitive ByVision cutting user interface – and by unrestricted access to the cutting area from the machine's long side.
"We will also be showcasing Bystronic's Xpert 40 press brake; which is the next evolutionary step in the field of bending. Now available with a mobile bending cell, this truly is the best compact solution both for automated and manual bending," comments Jackson, pointing out that its automated capability to carry out both long productions runs as well as once offs, makes it an essential Industry 4.0 tool.
Additionally, completing Bystronic's holistic manufacturing and fabrication solution, is BySoft 7 intuitive software comprising four modules: Plant Manager, Sheet Processing, Bending, and Tube Processing.
The larger Xpert 150T 3100 will also be showcased on Bystronic's dedicated stand at MTA.
"This press brake offers the highest levels of repeatable accuracy with no angle deviation. With adaptors, just about any type of tool can be used; and with pressure reference technology featuring fully automatic, dynamic crowning, first-class bending results are guaranteed," he explains.
"In the 'smart' Industry-4.0 factory, clean, burr-free material is a prerequisite. Also present on the stand at MTA, our principal Timesavers, a leading deburring equipment manufacturer, will be showing that rough edges need no longer be tolerated in the sheet metal industry," says Steve van Wyk, First Cut Sales Director.
Van Wyk advises that Timesavers will be presenting the new Series 42 1350 WRBW deburring machine, the latest in deburring technology, where pre-grinding is carried out by an abrasive belt. After this, the rounding of edges and surface finishing is completed in a single pass using eight counter-rotating abrasive flap brushes.
"In addition, our principal Everising is also part of the Industry 4.0 drive, with offerings which will be on display at the show, such as their new circular saw and band saws," he explains.
A valuable addition to any factory's suite of 'smart' equipment, the Everising fully automatic, touch-screen controlled P100C circular saw features a floating shuttle vice and hydraulic sorting chute for repeatable and consistently high quality.
"In addition, Everising's H360HB fully automatic bandsaw can cut with either tungsten carbide tipped (TCT) or bi-metal blades. A new NC11 touch screen control offers self-diagnostics and job nesting," van Wyk adds.
Also on show, the Everising S4633SA semi-automatic directional mitre cutting pivot bandsaw is another valuable contribution to the goals of Industry 4.0. Ideally suited to the structural steel industry, the S4633SA can handle widths up to 460mm and thicknesses of up to 330mm.
Tube-bending experts, BLM Group, represented in South Africa by First Cut, will be displaying their amazingly versatile E-TURN 32 tube bender, which is suited to applications in the automotive and furniture industry, to name only two. This CNC-controlled machine uses B Tools software to guarantee perfect results – regardless of the level of operator skill. 
"Every type of bend is possible and, importantly, the first part is always the right part," says Neil Labuschagne, Sales Manager of the Tube division at First Cut.
"Automation in the steel industry is one of the top ten game-changers of the fourth industrial revolution, or Industry 4.0.
We are therefore very excited by the opportunity we have at MTA to consult with our valued manufacturing and fabrication customers, on how we can best assist them to harness the power of automated, innovative capital equipment – in the spirit of Industry 4.0 – in order to promote the profitability of their businesses," concludes Poole.