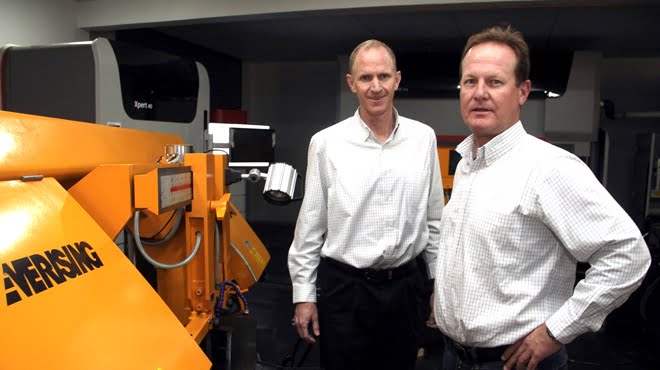 60 seconds make up a minute and 60 minutes an hour. One might ask what 60 years would comprise. To First Cut, a leading South African manufacturer and distributor of capital equipment, cutting consumables and precision measuring tools to a broad range of industry sectors – from metal and fabrication to meat and maritime – 60 years represents far more than merely existing or the elapse of time.
Rather, 60 years represents a dynamic journey of courage and endeavour, openness and transparency, innovation and unmatched service. It is these qualities which have seen the company grow successfully from a small blade-sharpening business for the timber industry in Cape Town, to a market leader providing total cutting solutions to an enviable portfolio of customers, with a nationwide footprint and staff of 240 people.
Today, the company is led by the Managing Director Andrew Poole and CEO Ian McCrystal. Asked about the success of First Cut, McCrystal explains that the company's remarkable growth is largely due to bold strategic decisions made at certain milestones and inflection points in First Cut's history.
"In 1998, one of these key strategic decisions was the vertical integration of an import operation with a local manufacturing company. In 2002, these two companies merged to form First Cut. Central to this deal was the negotiation of an agreement with Neill Tools UK, to manufacture their products under licence in South Africa. This involved getting two competing suppliers to collaborate in the South African market – a bold move which required vision and open-mindedness from all concerned. This paid off and today, through First Cut, each of these companies has grown its respective local market share exponentially; and First Cut has customers in a broad range of vertical industries," he explains.
Since then, the consumables division has pioneered innovation in the business, and provided the foundation for First Cut's ensuing diversification and continued success.
The company then saw that, for customers to get the best out of their blades, they also required top-quality cutting machines. This was one of the factors that saw First Cut diversifying into capital equipment in 2002, with the milestone acquisition of Bandsawing Services. This facilitated First Cut's entry into the capital equipment market. The subsequent conclusion of a deal with the Everising Machine Company provided a sound base from which to begin selling capital equipment to the structural steel, sheet metal, tube and pipe industries.
Poole explains that the capital equipment division, although at just 14 years old the 'youngest' segment of the business, has grown, and continues to grow, vigorously.
He adds, "Our company has a 'triangular' business model, the points of the triangle being made up of consumable sales, capital equipment sales, and, very importantly, the provision of service and spares."
Emphasising the equal importance of the three sides of the triangle, Poole asserts, "We will not sell a machine unless we have the factory-trained technicians to support the customer after the sale." Through its technicians and sales people, First Cut strives to get closer to the customer in order to assist in growing their businesses through the appropriate provision of cutting consumables and capital equipment accordingly.
A further contributing factor to the company's consistent performance is its dedication to quality, testimony to this being their stringent adherence to high standards and ISO 9001 (2008) certification. In addition, First Cut has gone out of its way to foster excellent long-term relationships with its overseas principals and customers.
"Again, the strength of these relationships lies in honesty, integrity and openness, qualities we work on developing every day," continues McCrystal.
The strength of the relationships that First Cut has with its many consumables and capital equipment suppliers allows the company to offer South African industry the most advanced technology the world has to offer. An example of this is tube and fibre laser cutting, a technology that is up to twice as fast – and are far more energy-efficient – than conventional cutting.
"For example, apart from speed and efficiency, fibre laser offers the customer greatly increased versatility and all these features ensure excellent return-on-investment," asserts Poole.
These advanced cutting technologies are ably supported by the company's expert team – people who have also provided the experience and knowledge to enable continued growth. The majority of First Cut's employees have many years and – in certain cases – decades of service with the company. To ensure that staff members remain at the cutting edge of expertise, First Cut invests substantially in training and currently has six apprentices in its employment.
"We are working towards our next milestone in 40 years' time," explains Poole. "As articulated by our internal tagline and campaign to be 'one step better', we have sound plans for further innovation and diversification. These plans include expanding our engineering offering into the fields of welding and grinding. Our vast industry experience, superb supplier and customer relationships and ethical approach to doing business, we are very confident that we will see our successors toasting First Cut's centenary and looking to the future beyond," he concludes.