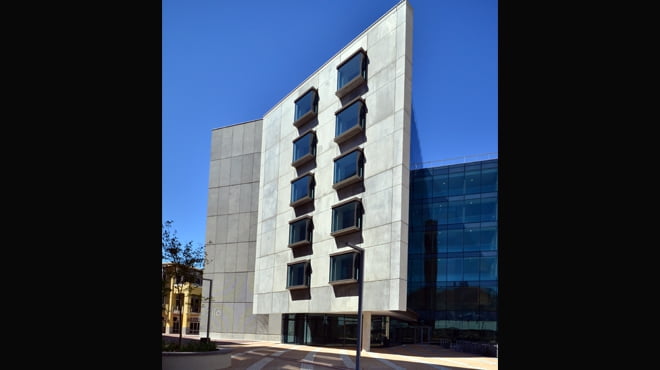 Cape-based projects took 11 out of the 16 awards presented at this year's Concrete Manufacturers Association NPC (CMA) Awards for Excellence competition. And no less than four out of five of the prestigious trophy winning projects were Cape-based. They were:
 No. 1 Silo at Cape Town's V&A Waterfront. Awarded the Aesthetics Commercial trophy for Concrete Units which supplied and installed the precas concrete
 panelling.
 Paving of gravel roads in Walmer Township, Port Elizabeth. Awarded the Community Upliftment trophy for Shukuma Bricks which supplied the concrete pavers.
 Gouda Wind Farm. Awarded the Technical Excellence trophy for Concrete Units for manufacturing 782 precast concrete wind tower segments for the project.
 Waterfront at Knysna Quays. Awarded the Precast for Life trophy to SmartStone for supplying Fan Cobble paving blocks.
In addition seven Cape-based projects won commendation awards.
These were:
C.E.L. Paving Products and Hydraform each won a Community Upliftment commendation. C.E.L. supplied paving for surfacing gravel roads in Kassiesbaai/Arniston, and Hydraform supplied concrete block making machines for the Radway Green Housing project.
Besides winning two trophy awards, Concrete Units also won a Technical Excellence commendation award for manufacturing precast concrete rock print panels for the Mouille Point Sea wall Project and an Innovation commendation award for the Gouda Wind Farm towers.
The other Cape-based Innovation commendation award was won by Rocla for casting precast concrete cabins for housing photovoltaic equipment in the Northern Cape.
C.E.L. Paving Products won two further commendation awards in the Precast for Life category. It supplied Vintage pavers and Double Cobble pavers to the Houtkapperspoort Mountain retreat cottages project in Constantia Nek and exposed aggregate Brownstone pavers to Croyden Real Estate.
The awards were presented at a gala dinner function in Johannesburg on April 23rd.
Commenting on the Awards, CMA executive director, Frans Minnaar, noted that advances in precast concrete technology were significant influencers in this year's judging process.
"The judges had no hesitation in awarding the concrete cladding of No. 1 Silo at Cape Town's V&A Waterfront the Aesthetics Commercial Trophy. Besides its striking visual appeal, which showcases the beauty of precast concrete construction at its best, the project also involved high levels of skilled precast concrete engineering.
"Similarly, the judges were unequivocal in nominating the Gouda Wind Farm concrete tower project for the Technical Excellence Trophy, which again reflects substantial levels of technical engineering input. It is a project with a pronounced innovative bias, being the first time that a South African wind farm used precast concrete segments in the construction of its towers, which in this instance were 100m high. Not surprisingly, the project was also entered into the Innovation category where it prevailed as a Commendation Winner," says Minnaar.
Interest in this year's completion was far greater than in 2012 when the CMA was celebrating its 40th anniversary. This was borne out by the number of entries which spiked from 77 in 2012 to 117. As anticipated, Aesthetics Commercial was the dominant category, attracting an impressive 47 projects.  Submission numbers in the other categories were as follows: Aesthetics Residential 12; Community Upliftment nine; Technical Excellence 26; Innovation 15; and there were eight entries in the Precast for Life category. Some projects were entered in two or more categories, the Gouda Wind Farm being one example.