Industrial processes are being automated at ever-increasing speeds, making production procedures more and more efficient. At the same time, a trend towards both decentralisation and merging previously separate tasks in central concepts has emerged here. Component manufacturers such as Hengstler GmbH and the Lapp Group are also supporting these trends. Innovative interface solutions for rotary encoders are making servo motors even more efficient, compact and reliable.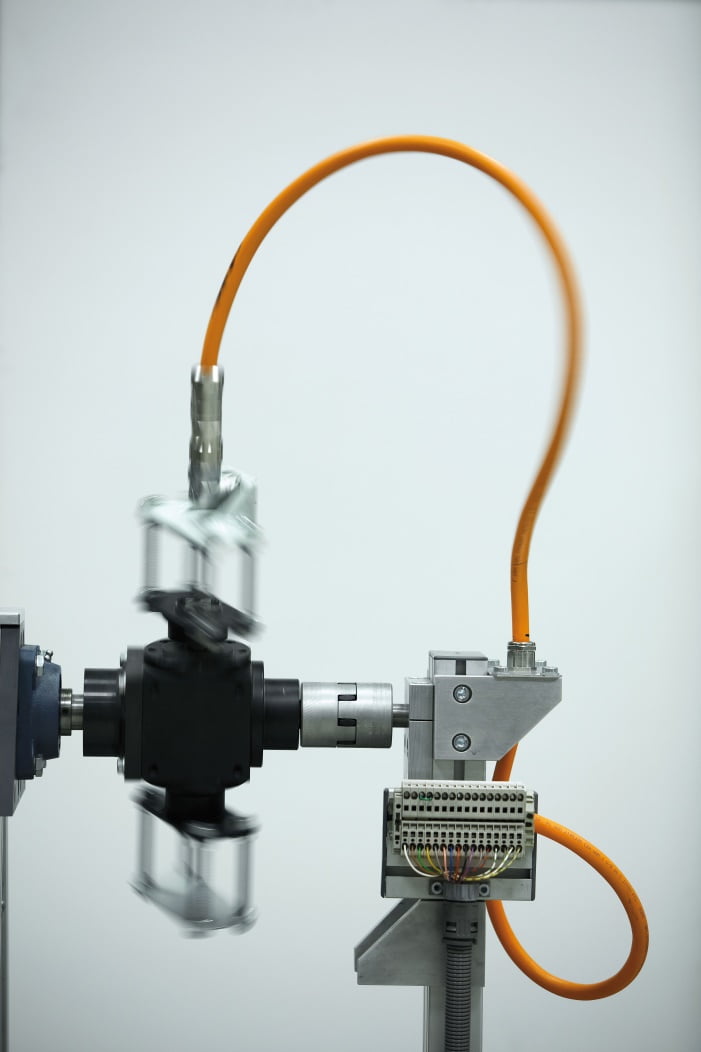 PIC: With central drive solutions, the trend is moving towards single-cable solutions that transmit power and data on the position and speed of the motor.
The vision of "Industry 4.0" in the factory, which aims to achieve maximum flexibility and efficient production with a batch size of 1, would not be possible without digitisation. This kind of smart factory can only work if machines and parts act more and more independently, communicating with each other via the network. Servo drives play an increasingly important role here. They have become an integral part of networked and flexible production. Important parameters such as position, speed, vibration or temperature can be transmitted using digital interfaces for communication between motors and controllers. So the market requirements for manufacturers of engines and systems are increasing continuously, and the focus is on slashing costs, saving space, easy implementation and optimum performance.
Hengstler GmbH, a leading European manufacturer of industrial components for counting and control applications, has now launched the ACURO®link interface, which, according to Hengstler's calculations, guarantees a saving of at least 50% of the slots, a reduction in the setup costs and an increase in machine safety. All of the motor feedback communication is accomplished via a specialised hybrid cable designed by the Lapp Group.
Hengstler calls the technology a 'Single Cable Solution', an innovative combination of the high-performance ACURO AD37 rotary encoder and the new ACURO®link open interface. Hengstler has been developing and manufacturing rotary encoders since 1983. "Our many years of experience and close collaboration with renowned customers during the pilot project phase ensure that the Single Cable Solution has the potential to create a new industry standard," explained Adrian Benz, Marketing & Communication Team Leader at Hengstler.
The electrical interface's data protocol fulfils the SIL3 requirements in line with IEC 61508 and Cat. 3 PLe in line with EN ISO 13849, while the AD37 rotary encoder itself and the IP core in the controls can be sold without functional safety or fulfil SIL2 and SIL3 requirements, depending on the customer's needs. An operating temperature of up to +115°C, an operating speed of up to 12,000 rpm and a low installation depth of 28 mm make the AD37S the most compact absolute multiturn rotary encoder in its class. In the SIL3 configuration option, this high-performance rotary encoder is called the AD37E, and it sets new standards. The rotary encoder contains both an internal temperature sensor and a separate connection for the motor's winding temperature sensor so that this information can be recorded in the rotary encoder itself. A standardised electronic data sheet (EDS) in the rotary encoder stores specific encoder data, which can be accessed at any time. The motor and drive data can be stored on internal OEM memory in the encoder itself.
The extra monitoring functions for recording operating data play a key role in implementing Industry 4.0 scenarios. ACURO®link comes with major benefits, especially in compact servo motors. The efficiency can be increased significantly by supplying the motor power and the motor feedback signals via a Single Cable Solution. You can really notice the major space gain and weight loss, especially in larger systems.
The Lapp Group has developed two custom-fit hybrid cables tailored to the ACURO®link digital interface: the ÖLFLEX® SERVO FD 7DSL and ÖLFLEX® SERVO 7DSL. With this solution, both power and data are transmitted via one shared cable. This also applies to signals from other sensors (for instance the temperature sensor), which are integrated into the digital motor feedback protocol. The FD version features a very heavy-duty PUR sheath, which makes it highly suitable for use in guide chains. By contrast, applications in which the cable is laid in a fixed installation are more suited to the lower-cost PVC version. Polypropylene (PP) is used universally to insulate the conductors. This takes account of the need for low-capacity cables and the issue of disruptive leakage currents on the braided shield. In addition, the use of PP allows for the walls to be made thinner than would be possible with PVC. The reduced wall thicknesses in the cable's insulation also result in a lower outer diameter. Up to 20% can be saved by using PP rather than PVC here. "Lapp can contribute its expertise in cables for torsion applications and offer types that meet the demanding requirements in this field," explained Lucas Kehl, Head of Product Management (Cables) at Lapp.
ACURO®link can support high-performance motion control due to its high transmission rate of up to 10 MBd and its data exchange rate of up to 32 KHz. In addition, the transmission of complete position data means that the interface features extremely high electromagnetic compatibility (EMC). This combination of properties is unique on the market. We can also integrate motor cables up to 100 m in length.
Only one cable is now required for both power and data, making the separate rotary encoder cable and connector obsolete, so there is huge potential for savings here. Particularly for smaller drives, the relative cost structure for a feedback cable and an M23 connector should not be underestimated. The installation has also been simplified. What is more, it is important that cables suitable for energy chains and robot applications have low space requirements, especially as conventional servo and rotary encoder cables must be kept a minimum distance apart due to issues relating to electromagnetic compatibility.
Currently 7- or 19-wire tinned copper conductors are commonly used for the data pair. The tinning protects the insulation material against direct contact with copper (thermal ageing) and acts as a general protection against oxidation (basis for durability).
Since data as well as power and control signals need to be transmitted along hybrid cables, electrical parameters such as the characteristic impedance, attenuation values, as well as capacitance, inductance and resistance per unit length, life cycles and surge impedances in the defined frequency range are of great importance. For example, the surge impedance for ACURO®link has been defined as 110 ± 10 Ω.
The reduction in components and wiring has clear cost benefits. Not having to use rotary encoder cables alone can lead to cost savings of up to 35%. The assembly and maintenance times are also minimized.
Incidentally, alternative hybrid solutions are also technically possible, for example those based on industrial Ethernet or the use of optical data transmission systems such as POF (polymer optical fibre) or PCF (polymer-clad fibre). Once again, the Lapp Group has the necessary experience in this field. Especiall considering EMC, the use of optical data transmission systems is certainly an attractive optopm, especially as the risk of electrical systems malfunctioning or breaking down as a result of electromagnetic issues has significantly increased.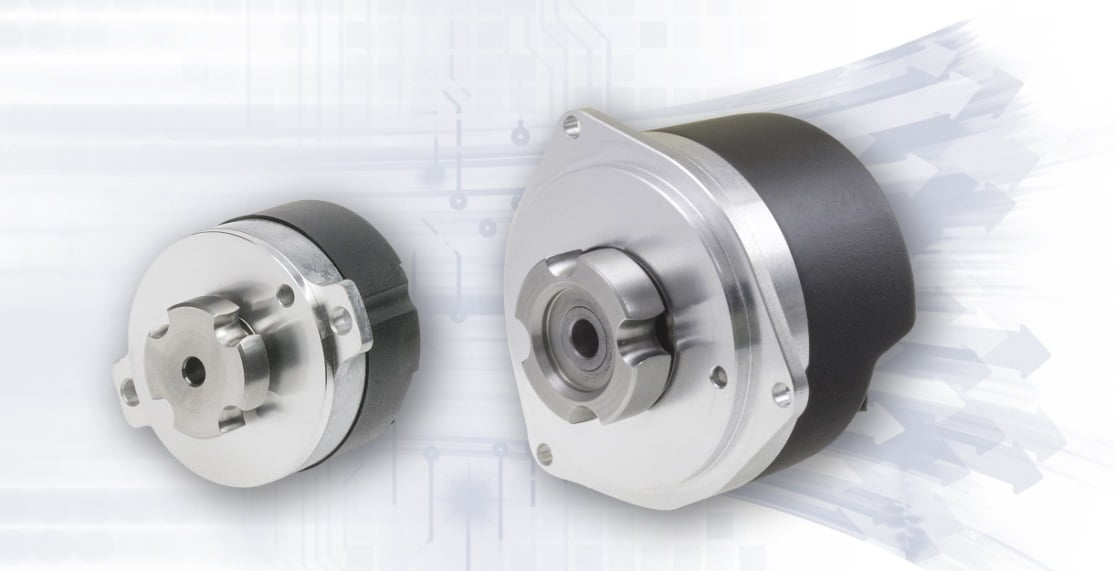 PIC: The servo motor feedback rotary encoder series by Hengstler is designed for highly sophisticated applications.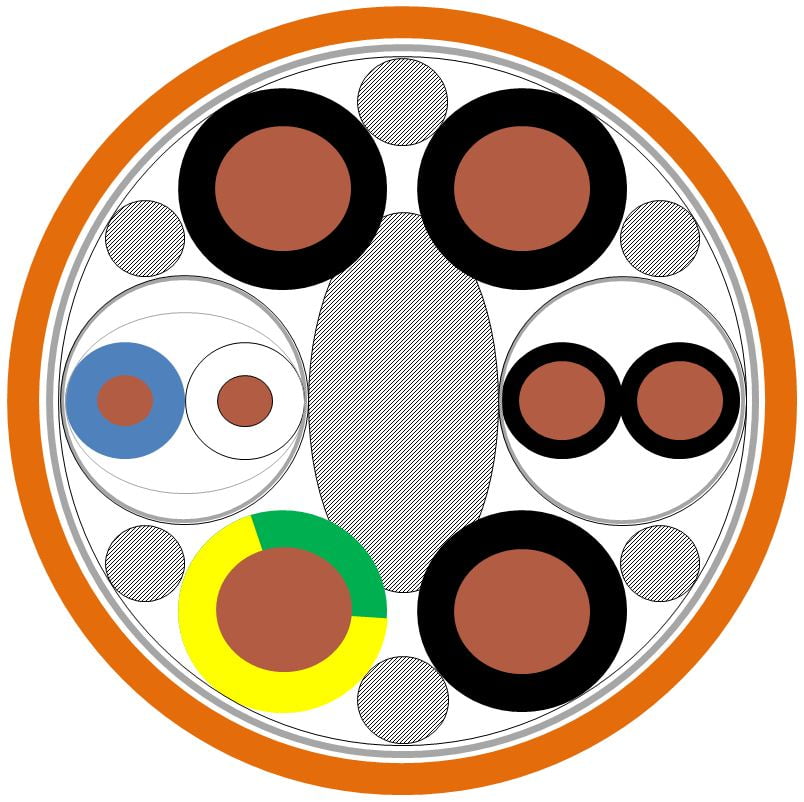 PIC: Typical cable design: three black power cores, GN/GE protective conductor, optional control core pair with screening braid (black), signal pair with foil laminated film and screening braid (white/blue)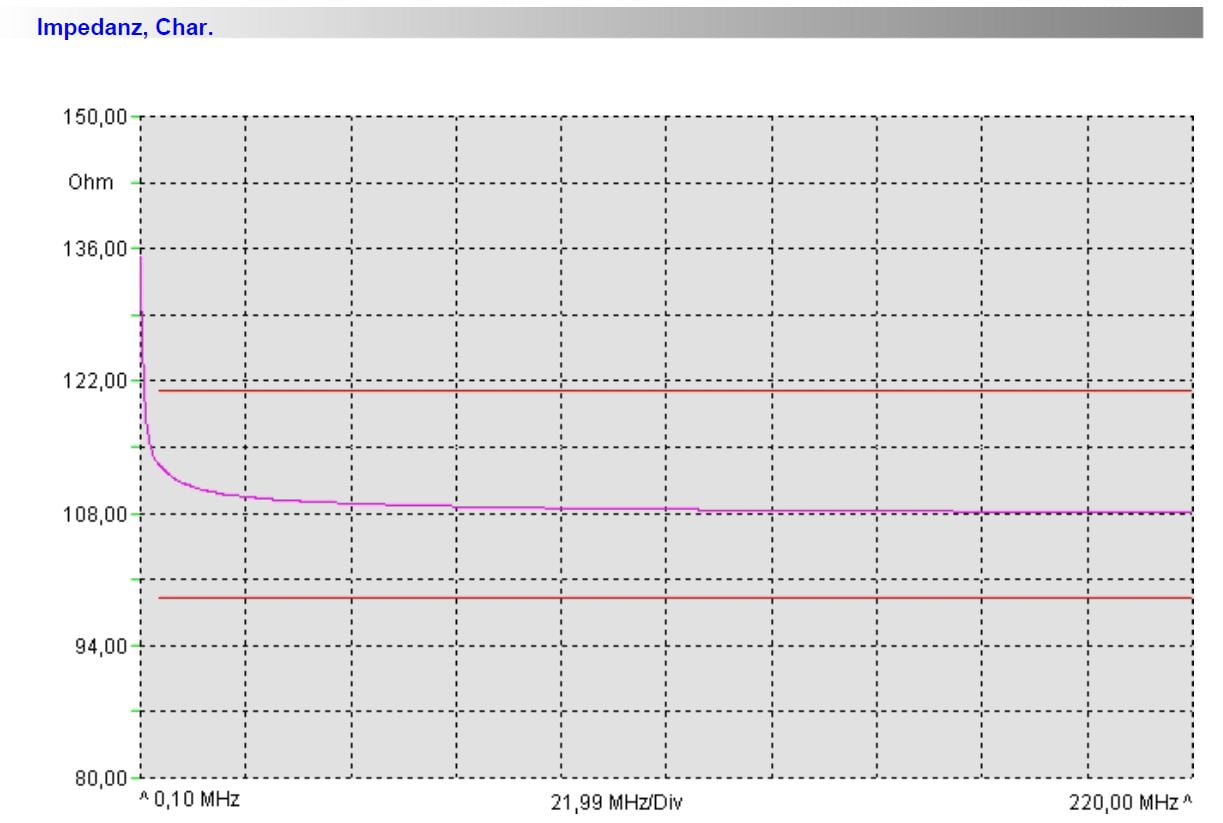 PIC: Cables used in the ACURO®link interface must feature surge impedance of 110 ± 10 Ω.
For further information on this article or products suited for your requirements contact Lapp Group Southern Africa on either +27 11 201 3200 or via email at info@lappgroup.co.za