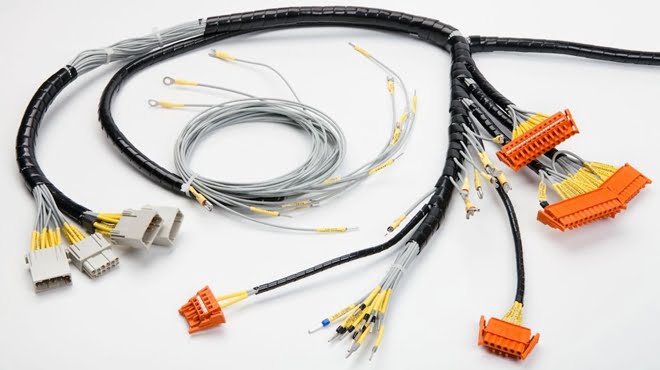 Whether you need an assembled cable with a lug or ferrule, servo cable assemblies for moving applications or a populated drag chain, LAPP has the ideal solution for your requirements. Systems Solutions made by Lapp.
For over 30 years, our dedicated and highly qualified team of engineers, technicians, sales and service personnel have been coming up with customised assembled cable solution – from the design phase to the creation of the prototype, right through to production and quality control.
Our comprehensive inventory of cables, connectors and accessories that we have developed, enables us to respond quickly and flexibly to your requirements – from ad-hoc to large-scale projects. We have state-of-the-art system solutions assembly sites around the world.
Cable solutions from A to Z
We produce different cables for CNC machinery, switch boxes, control cabinets and electrical assemblies. Our product range stretches from single core and multi-core cables through to EMC-shielded cables, all of which can be fitted with a wide selection of crimp contacts, connectors and housings.
ÖLFLEX® CONNECT SERVO
As a leading manufacturer of assembled servo cable systems, we offer all of the most popular servo standards for use in varied areas in industrial machinery and drive systems. With international manufacturing excellence, we produce the assemblies in our own facilities across the world.
Our tight knit global network of servo assembly facilities ensures high availability of stocks and a consistent quality.
Your ÖLFLEX® Connect Benefits
No capital expenditure
Avoid investing in your own production facilities – leverage our state-of-the-art equipment and tools.
Less operating expenditure
Benefit from a simplified supplier base – Lapp supplies all cable connectivity components from a single source.
Reduced Inventory
No need to carry stocks of connectors, cables, conduits and hoses. Avoid component scrap or waste from cutting cable.
Highest scalability
With Lapp, you are able to respond to increases in demand immediately. Working with Lapp, you support machine development and serial production – one supplier for individual pieces to whole series.
Technical expertise
Make use of Lapp's decades of cabling technology expertise. Rest assured for reliability and safety from uncompromising brand products.
For more information on these cable systems – please contact Tel: +27 11 201 3200 or via email at info@lappgroup.co.za or visit our website www.lappgroup.co.za