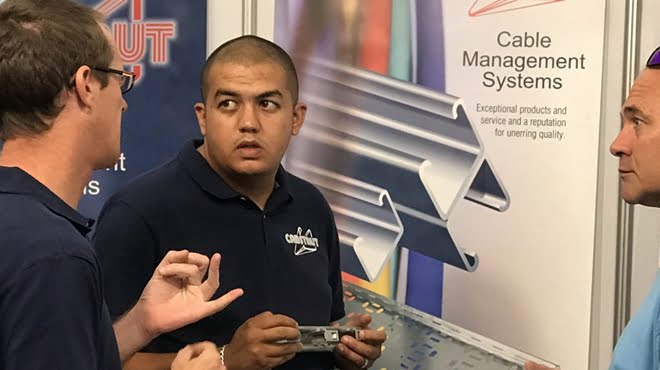 Voltex hosted its inaugural Electrical Trade Expo on the 7th and 8th of March which says the firm, attracted the Western Cape's largest gathering of technical specialists, market leaders and suppliers to the electrical and energy related field. Over 50 top local and international brands were displayed and attendees had the opportunity to stroll through a world of electrifying excitement, take part in workshops and view the newest advancements and products in the energy efficiency and PV fields.
The objective of the expo was to create a one-stop-shop destination where suppliers' products could be displayed to installers and specifiers thereby creating product awareness and equipment knowledge of products and services available from Voltex.
Many new innovative products were on display such as the CBI Nanoview home electricity and water consumption management system, solar and standby energy products, as well as the brand new Le Grande switch socket range. According to Hugh Ward, the Group Commercial Manager of Voltex SA, he was very pleased with the response from suppliers across the electrical supply field. The solar products attracted a great amount of attention, especially the new Geyserworks solar system that integrates with current geysers that can be controlled via an app on any smartphone.
"The show was viewed as exceptional by many of our suppliers in that it was an affordable way to promote their products and services to their target audiences. Word spread in the industry on the wide range of products that were displayed in one place, and that  attracted a large audience" says Ward.
This was the first time in many years that an expo of this kind was held and with the turnout living up to expectations on the second day, the request has been made by several suppliers to replicate this type of event through other parts of South Africa.
Shawn Roets, Regional Manager of Voltex Western Cape, feels that the turnout was extremely positive and underlined the need for such industry specific trade expos to bring together all the relevant players in the industry, from OEM's, manufacturers, distributors, engineers and installers. "Such has been the response that we are already planning the next expo" says Roets.
Voltex claims to be South Africa's largest electrical and lighting distributor and supplier of the widest range of electrical and energy efficient products, through its 17 specialist supply divisions and 58 distribution outlets located throughout Southern Africa. Voltex has an inventory comprising of more than 60 000 line items comprising well-known and international brands.