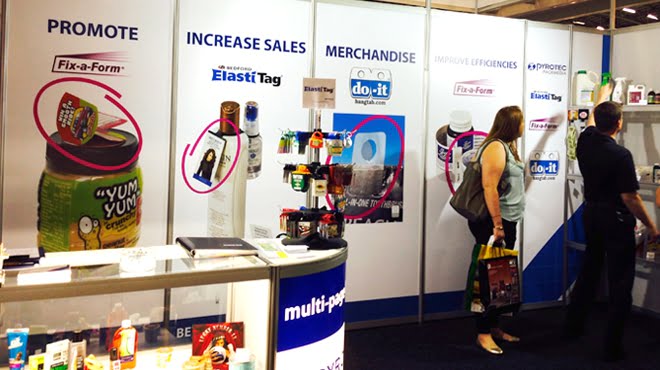 Not a company to sit on its laurels, Pyrotec has begun the year in high gear as it builds up to showcasing its products and services at Propak Africa 2016 – the largest packaging, processing, printing, labelling and plastics exhibition in Africa.
This year marks 50 years since the launch, in 1966, of Pyrotec – a privately-owned South African company that specialises in providing innovative, top-quality product identification solutions. Anniversary celebrations will commence during Propak Africa with a series of give-aways that are designed to intrigue customers and keep the magic going throughout the year.
Additionally, visitors to Pyrotec's stand can talk to Pyrotec PackMedia's expert team about Fix-a-Form promotional and informational booklet labels that multiply on-pack communication space many times over without impacting on packaging space; ElastiTag, for on-product promotions such as discount coupons, competitions and special offers; ElastiTote, the ultimate sample delivery tool that carries a combined trial sample and informational leaflet using a highly-durable hang tag attachment; and Do-It Hang Tabs and Display Strips that display products on-peg in the line of sight at retail.
Pyrotec PackMark is showcasing two operational lines, both of which are fully integrated using CoLOS networking software from Markem-Imaje and featuring the company's on-pack product identification solutions and self-adhesive label application systems. A number of PackMark's principals will be attending Propak Africa, including:
Petr Kybsch, Yanniack Morel and Eric Barthelemy from Markem Imaje in France
Franco Comi from ALTech in the UK
Des Dunleavy from Harland Machine Systems in the UK
And, other big news from Pyrotec is the launch at Propak Africa of a partnership with Hewlett Packard Enterprise (HPE) to resell HPE's Global Product Authentication Service (GPAS.) This will fall under a newly-launched division called Pyrotec PackVerifi.
GPAS is a cloud-based brand protection, track and trace, and consumer engagement service that helps organisations fight the scourge of product counterfeiting and detect grey market activity while supporting finished goods traceability throughout the supply chain. 
'No other vendor in the brand protection and security printing marketplace matches the breadth of capability and service of HPE,' says Peter Gadd, Director of Cloud Services, Hewlett Packard Enterprise. 'Together, Pyrotec's expertise and the HPE service offering provide the focus required to deliver a truly engaging solution built to help unlock hidden insights relating to brand perception and illicit supply chain activities and performance.'
The Pyrotec team will be on hand at Propak Africa to provide expert technical advice about the best printing, labelling, coding and software integration solutions for your business. Additionally, Peter Gadd from HPE in the UK will be at the show to discuss GPAS with visitors. For live demos and industry-specific advice, visit Pyrotec at stand E18, Hall 6.