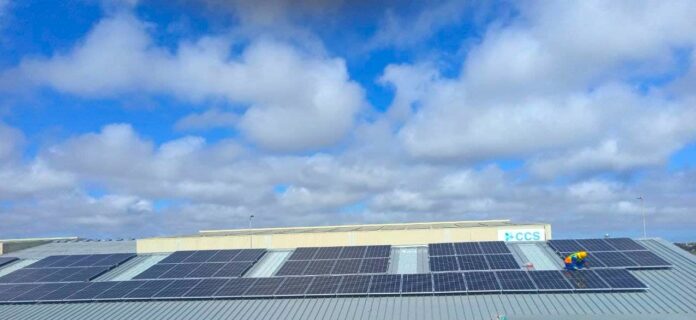 PIENAAR Brothers (Pty) Ltd – a national leader in PPE for over 60 years recently made the decision to go off the grid and to become completely reliant on solar energy at their head office in Paarden Eiland, Cape Town. After years of rising electricity costs – with annual price hikes now sitting at around 20% – going the solar route made the best financial sense.
The Western Cape enjoys high solar radiation levels with peak sunshine hours, averaging nearly five hours a day, making the transition from Eskom power to solar move a logical choice. The engineered design is a turnkey solar PV system with full battery back-up, projected to save around 70-80% of Pienaar's energy costs while completely eliminating down time during the multiple load shedding periods. 
The saving and the ability to continue working, while difficult to quantify precisely, is regarded by the company as substantial. The system requires little maintenance over its projected lifespan of between 15-20 years. 
The solar PV rooftop array is designed to maximise usable sun hours and the solar panels themselves are rated level tier 1 and have a design lifespan of 25 years. 
Remote monitoring and control of the system is done by the service provider so as to ensure optimisation of the system at any time. All commissioning and registration with the local authorities was done by Solar Solutions Engineering SA (legal requirement in SA) which ensures compliance with all the regulatory bodies.
Lithium-ion battery storage is used to capture the free excess solar power produced during sun peak hours and is an essential insurance against constant load-shedding or power outages. As a responsible and an ethical business, the decision to go solar will ensure continued productivity while protecting the environment and substantially reducing its carbon footprint over the coming decades. Pienaar Brothers is dedicated to looking after the earth for the future generation.
Pienaar Brothers is a Level 1 BEEE contributor and has 11 branches throughout the Northern, Western, Southern and Eastern Cape and KZN; located in Cape Town (Head Office), with branches in the Cape Winelands, Worcester, Saldanha Bay, George, Mossel Bay, Port Elizabeth, East London, Durban, Kathu and Upington. It has close channel partner distribution relationships with many of the best international and local PPE manufacturers and therefore is able to provide internationally renowned premium PPE products at the most competitive prices from; 3M, Profit, Bova, LeMaitre, Wayne, Neptun, Uvex, Honeywell, DuPont and CATAPILLAR amongst others.
www.pienaarbros.com / www.pienaarbrothers.co.za
Contact