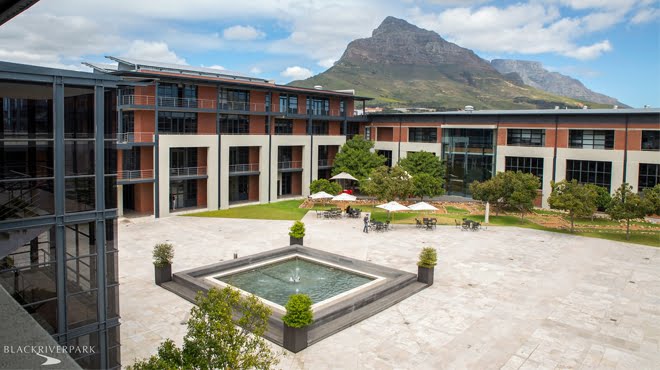 Black River Park in Cape Town has become the first office precinct in South Africa to receive Green Building Council of South Africa (GBCSA) certified Green Star SA ratings for all its buildings.
The eight buildings at Black River Park office precinct in Observatory, offering a combined 75,000m² of office space, have earned unparalleled green building credentials. Besides being the first full office park to have all buildings Green Star SA rated, it is also home to the first Green Star SA Existing Building Performance (EBP) certified building and the first buildings to receive a 6 Star Green Star SA Existing Building Performance rating.
Brian Wilkinson, CEO of GBCSA, comments, "This is a major achievement, both for Black River Park and for GBCSA. Certifying all eight of Black River Park's existing buildings is quite a feat, especially for a precinct of this size. It is an exciting example of outstanding sustainable innovation, and confirms the vision of its management team and their outstanding commitment to sustainability."
He adds, "We would like to see more business parks following this leading example. All the buildings at Black River Park were certified using the EBP rating tool. The EBP tool means that South Africa's many existing buildings in established office parks can now be retrofitted with green innovations and certified. This has huge potential for positive impacts to our environment, our businesses and our economy." Nedbank Corporate Property Finance sponsored the EBP tool.
Black River Park is home to more than 110 companies, including the GBCSA's head office and South African Property Owners Association's Western Cape offices. It is now owned by JSE-listed Redefine Properties. Redefine acquired the landmark green office precinct as part of its Leaf Capital deal earlier this year.
Redefine CEO, Andrew Konig, comments, "The Black River Park complex has set itself apart with pioneering green initiatives and sustainable building management. We are exceptionally pleased to acquire this property, which perfectly supports our commitment to sustainability."
The Black River Park buildings received maximum points on all credits targeted in their Green Star SA submissions. Three buildings received a 6-Star Green Star SA rating, three received 5-Star certifications and two earned 4-Star ratings.
Sally Misplon of Misplon Green Building Consulting, the Green Star Accredited Professional and principal participant in the green project team, guided Black River Park right from the very start in its certification project.
Some of the green initiatives undertaken by the office precinct to secure its ratings include:
The largest roof-mounted photovoltaic system in Southern Africa.
Feeding electricity back into the grid.
A high-performance green cleaning programme.
68% of the tenants in the office park signed a Green Lease. These leases encourages collaboration and govern the relationship between the building owner and the tenant to manage and operate the building along environmentally sustainable principles, to the benefit of both.
For comfort and well-being, the building features performance glass and balcony overhangs, to reduce heat and shield harsh sunlight.
All lights in common areas were replaced with LEDs, with owners and tenants both benefiting from cost savings achieved as a result. A financing option was also offered to tenants to enable them to retrofit to LED in their own premises. 
Indoor air quality testing and management.
All 6 Star rated buildings stood out for water and energy performance. They outperformed the Green Star benchmarks and achieved significant improvement on their baselines.
Sustainable management and operations that optimise the buildings' environmental performance.
A green travel plan to encourage alternative modes of transport to and from work.
Sustainable procurement and purchasing practices. For every product or consumable purchased by Black River Park, the most sustainable one is selected. 
All waste at the park is sorted into recyclable and non-recyclable materials. It also correctly disposes of fluorescent tubing, batteries and e-waste. Garden waste is recycled and reused as mulch.
Ecological gardens, including a vegetable garden and fruit orchard, are maintained with borehole water pumped on site.
Perhaps some of the most exciting green innovations at Black River Park are those involving the park's tenants. These include holding a 'cycle to work' day, a clean-up of the Liesbeeck River that runs past the park and other activations with the precinct's tenant community. Numerous other presentations and showcase tours are held for parties such as UCT, African Utility Week, Iziko museum and the like. 
"It is wonderful to see an office park owner going above and beyond what's required for certification," says Wilkinson. "These initiatives encourage people to do more within green spaces and enjoy their many benefits. They bring sustainable environments to life and encourage the wider community to become an active part of the green building movement."