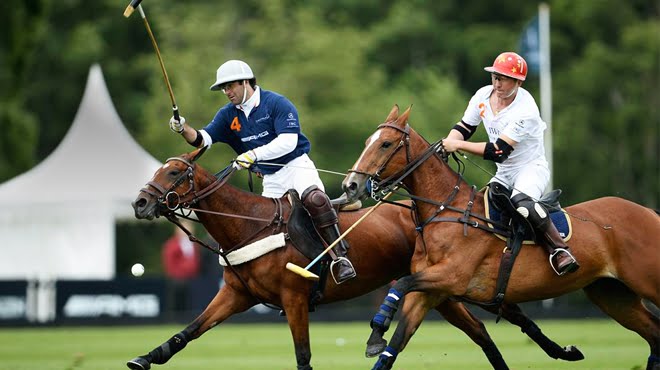 Africa is witnessing an explosion of interest in polo. The inauguration of prestigious polo events and clubs in South Africa and Nigeria, has grown remarkably over the past 10 years. Leading polo estates in South Africa such as the Val de Vie Estate in Cape Town and Waterfall Estate in Johannesburg, as well as Fifth Chukker in Kaduna, Nigeria, offer the perfect breeding grounds for talented homegrown amateur and professional players. This means the continent doesn't have to rely on visiting players for top-level games to take place.
The "Game of Kings", as the sport is dubbed world-wide, is a huge attraction for horse lovers, fans of the activities around the matches, and for people who want to connect or be connected as polo provides an incredible networking space.
Over the past 15 to 20 years, Africa's growth and prominence in the world of business has grown significantly and more international business people and polo patrons, such as Nicky van der Walt, now ensure that South Africa's involvement with the sport doesn't go unnoticed. For this reason, Nigerian polo teams such as Fifth Chukker and Nigus, have started participating in tournaments hosted in South Africa.
The growth in the sport can be seen through the top-tier sponsorships it's attracting with international brands such as LVMH (Louis Vuitton, Moët, Hennessy) aligning themselves with the sport. Now, South African established brands are also catching on to this trend and the currently untapped local market.
Polo events in South Africa
Autumn 2016 will see Jo'burg celebrate the sport of kings like it's never seen it before, with the launch of the inaugural Cell C Johannesburg Polo Classic (CCJPC) presented by Julius Bär. This social sporting event will take place on 8 May 2016 and promises a sensational line-up of high-goal polo, fashion, entertainment and a series of luxury experiences.
"Polo is a sport with global appeal and is very aspirational. As the fastest growing and most innovative mobile network operator in South Africa, we hope to share the lifestyle of polo with many of our Cell C customers, giving them the sense that they are part of a global community," says Doug Mattheus, Executive Head of Marketing for Cell C.
This brand new annual event is co-owned by long-standing event partners VIVIDLUXURY (a luxury brand communications agency) and Val de Vie Events, who are also co-owners of the popular annual Veuve Clicquot Masters Polo Cape Town amongst others, and is committed to keep pushing the envelope; offering more cutting edge events than ever seen before in the local market.
"Events such as the Cell C Johannesburg Polo Classic is also the perfect platform to showcase the best that South Africa has to offer – proving that it can produce a world-class event that can compete on the international stage. It sends out a positive message about the country rather than the usual negative reporting which we so often see on the international broadcast networks" adds VIVIDLUXURY's CEO Anina Malherbe-Lan, one of the event co-founders.
Leading the field
Today South African polo events can be compared to other international polo events such as the British Polo Day, as the horses are better trained, the players have more experience and there are state-of-the-art local facilities. In addition, by hosting international tournaments such as these, South Africa can also showcase the country to new audiences, promoting tourism, business and sport. British Polo Day has also earmarked some dates to host games in South Africa.
Inspired to offer unique experiences rather than a duplication of what has been seen before, this polo event dream team is planning a series of interactive experiences on the day such as Gourmet Culinary Pairing Stations, a Whisky & Watches Lounge, a Cognac & Backgammon Gentlemen's Library, a Luxury Fashion Emporium, a Ladies Pamper Lounge and a Super Car Pavilion and more.
The sport also has the ability to raise funds for charity organizations. Sponsorship investments from big corporations such as Cell C, enable polo event owners to support charity organisations in both Johannesburg and Cape Town. Prince Harry and professional polo player Nacho Figueras visited South Africa, where they played at Val de Vie Estate raising over US$1m for Sentabale Charity Organisation.
Polo is also synonymous with a sophisticated lifestyle; drinking champagne, dressing up in designer gear, driving super cars, and helicopter transfers to the event. But, the sport is also made accessible to the aspirational market by opening up a picnic area at events such as CCJPC. So whilst it's a very exclusive sport, both to play and attend, the events do not exclude a younger audience that is not necessarily interested in VVIP Hospitality.  So for R350, one can have a picnic on the grass, buy food from luxury food trucks and enjoy the magic of the sport.