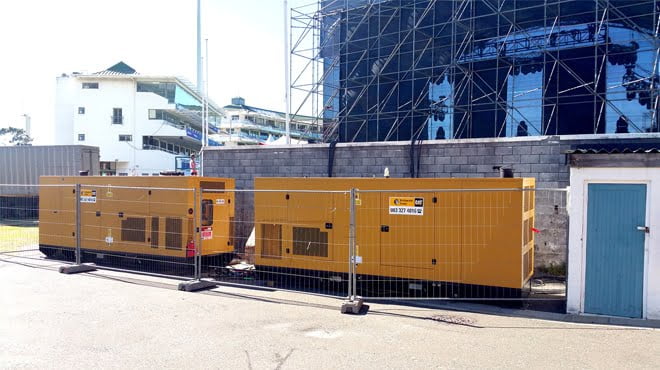 Business has been growing steadily since Barloworld Power, Caterpillar's southern African dealer, opened its power rental operation in Cape Town in October 2014 – and it's not all about load shedding.
Barloworld Power Rental is well established in Gauteng, KwaZulu-Natal and Angola. The decision to extend to Cape Town was based on demand from customers wanting reliable, backed up power solutions not only due to load shedding but also to provide additional capacity in high demand periods in agriculture and tourism in particular.
The business rents and supports a wide range of Cat generator sets as well as industrial lighting solutions from AllightSykes. All generators are housed in sound attenuated, weather proof canopies with the smaller sets mounted on trailers for mobility. Generator sets can be synchronised to provide a range of solutions.
Focal points of the new Cape Town power rental business in Bellville are naval and marine rentals, the growing oil and gas sector, the film industry, tourism and entertainment, as well as agriculture, says Brendon Hart, rental and used consultant in the fledgling Cape Town business.
Success factor
Hart is responsible for the Eastern Western and Northern Cape as well as Namibia. "We currently have more than 8.5MVA of rental power in operation the western cape alone, 4MVA in Namibia and 2MVA in Eastern Cape. "
He adds that while load shedding is causing more businesses to consider back-up power, the secret of the success enjoyed by the power rental business in Cape Town has a lot to do with the reliability of Cat power systems and the support provided by Barloworld Power.
"Our rental fleet in the Cape is very new, which minimises downtime. We offer a 24/7 backup service to all our customers with an agreed response time of 24 hours," Hart explains. "The agricultural sector has been proactive in seeking standby power solutions for periods of high workload such as harvesting in the grape industry."
Strong competition
"Barloworld Power Rental has an excellent reputation in the entertainment industry and in December Cat generators enabled audiences to enjoy the music of the Foo Fighters and A Taste of Sonar headlined by the Pet Shop Boys. More recently we supplied power for the 2015 KDay music festival in Cape Town.
"We have also made pleasing inroads in tourism with the supply of standby rental solutions to accommodation establishments that don't want to be caught short in peak periods."
Hart says the focus of the Cape Town rental power business is very different from Gauteng.  "Gauteng is very mining orientated with a wider range of market opportunities. Cape Town has fewer customers and therefore much more competition. The determining factor is what we as a business can bring to the table."
He is also responsible for used generator sales ex-rental stock but says that based on high demand for rental units at present, used equipment is in short supply.
Global best practice
For Hart and the growing power rental team, top quality service is key to sustaining the very high standard set last year when Barloworld Power in Johannesburg became the first Cat Power rental dealer in Africa to be awarded 5-star certification from Caterpillar and only the sixth in the world.
Stephen Hayward, the 6 Sigma Black Belt at Caterpillar Global Rental Power who conducted the audit, described Barloworld Power Rental as "one of most professional rental operations I have reviewed."
"We have to ensure that we follow the same best practice as our Johannesburg operation in order to maintain this very tough certification," says Hart. "So from day one there have been high expectations of us not only from our customers but also from Barloworld and Caterpillar, and we are working hard to ensure we fulfil them."